WORTH is looking forward to the annual Venice Biennale, which will be open until the 25th November and is displayed in various locations around the Venice City Centre. The event has an amazingly long-standing history since its foundation in 1895, and today the annual event is one of the most famous and prestigious cultural organizations in the world.
innovation

Wednesday 6 June 2018, 00:00 - Sunday 25 November 2018, 23:45 (CET)
Practical information
When

Wednesday 6 June 2018, 00:00 - Sunday 25 November 2018, 23:45 (CET)

Languages

English

Website
Description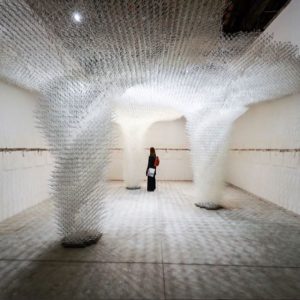 Its focus is the promotion of new contemporary art trends with the organization of exhibitions and research in all its specific departments: art, architecture, cinema, dance, music and theatre. The event has grown rapidly since its beginning as it now features exhibitions by National Pavilions, an International Exhibition by the Biennale curator, international events by the Biennale curator and collateral events.

This growth has opened up the event to multiple market groups to include a vast range of workmanship and creative disciplines resulting In the Art Biennale being recognised as the world leader in contemporary art exhibitions as the countries participating has increased from 59 (in 1999) to 86 in 2017. The Architecture Biennale has also been recognised as the best in the world.
WORTH is inspired by events such as this because it offers the public an opportunity to see inside the world of creatives that is often unseen and allows the appreciation for industries and products that continue to progress society through innovation and evolution of tradition.
To find out more about the event click here. 
Photo: @labiennale – Croatia Pavilion. Photo by @jacopo_salvi