WORTH memberships will be taking part in the upcoming 2019 EU Industry Days, which will take place on the 5th-6th of February 2019 in Brussels.
innovation

Tuesday 5 February 2019, 00:00 - Wednesday 6 February 2019, 23:45 (CET)
Practical information
When

Tuesday 5 February 2019, 00:00 - Wednesday 6 February 2019, 23:45 (CET)

Languages

English
Description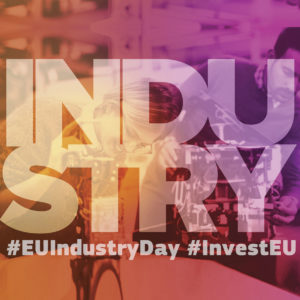 The EU Industry Days is an event that was established with the aim of promoting co-creation, an exchange of ideas and cooperation with like-minded stakeholders.
The programme is established by the European Commission as well as other collaborating stakeholders and the event coincides with the European Industry Week that runs throughout February with multiple events taking place Europe-wide.
We are very proud to announce that the following WORTH Partnership Project 1st call winning partners will be attending the event and presenting their projects created through the WORTH Partnership Project:
1. Geneviève Levivier of A+Z Design and Studio Bas Froon
2. Heleena + Jorida Papa
3. ADBUSE + Castellari + Geoband
4. Elisabet Jayot
5. Elisa Palomino + Atlantic Leather
The content is varied and highly-relevant to the European design industry as a whole with the influence from external stakeholders who also wish to bring relevance to important issues that are pressuring the creative industry. This varied content provides an amazing opportunity to generate transnational collaborations and the amplifies the potential for positive changes to happen.
Come along to the event to be a part of the network of the movement towards a better and more positive future
Find out more information about EU Industry Days through their website here.