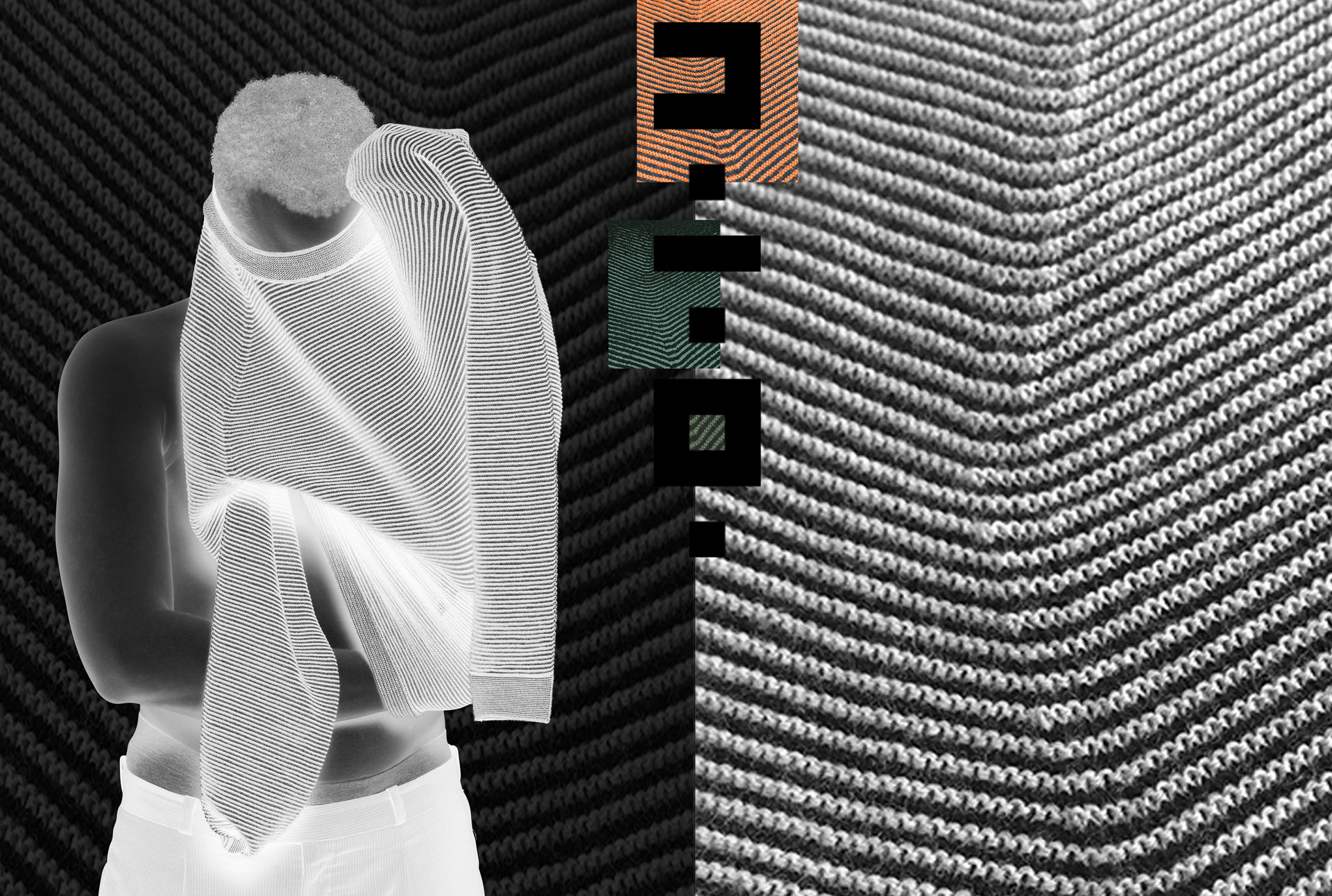 The project
Virtual 3D knitwear design template with a variety of shapes and sizes. Each design is built from building blocks that can be used to create a personalised piece of knitwear. The idea is to create a template and connect it to the Shasize virtual fitting tool. This approach requires two types of building blocks: visual (virtual design in Clo3D) and in Knitcode (3D knit patterns). The project will connect three processes that make personal knitwear possible on a potentially large scale.  
Virtual knitwear design built up as a modular collection, offered to consumers in an attractive package
Virtual fitting connected to digital tailoring: dressing people instead of selling (standard-sized clothing).
Creating personalised knit-code to operate 3D knitting machines and produce personal knitwear for real.
Storytelling
THE IDEA:
Rosanne: "At the end of 2011, when I entered the fashion industry as a designer and patternmaker for a luxury brand, the industry's lack of a vision for a sustainable future struck me. Inspired by the idea that technology can solve the great problems of mankind, I decided to look for solutions in high tech. I travelled to the exhibition of ITMA (International Textile Machinery Association) in Barcelona and in the middle of hammering looms and giant carpet machines I found a small machine. It was quietly knitting entire garments of the finest quality. Yarn goes in, a seamless garment comes out. No material is wasted, and what's more: due to its seamless construction the garment can be unravelled. Re-use of yarn becomes a viable option. Looking at this machine I saw a glimpse of the future. I saw a direction for a sustainable industry and a role for myself to play.
With limited time and budget I started doing experiments, learning, improving, failing and succeeding and ultimately leading to the launch of my first personalized-knitwear brand The Girl and the Machine in 2016.
Since then I have been working on 3D knitwear, the concept of personalized knitwear and knitting on demand and the significance of all those ideas in the light of the much needed industry reform. Fashion on demand reduces the number of garments produced and inspires consumers to buy less but better clothes. By combining on demand manufacturing with a zero-waste production method such as 3D knitting, we are able to move closer to a zero waste fashion industry.
Co-founder Annelie joined early 2018, followed by students, young freelancers and more and more experienced professionals who started to contribute their skills to knitwear on demand. But for a brand such as The Girl and the Machine to exist, some mayor changes were needed in the supply chain. An idea for a new industrial ordering system began to take shape. We decided to put The Girl and the Machine in the fridge until conditions would be more favourable and set up an initiative named New Industrial Order, to start building the new supply system."
THE BIRTH OF THE PROJECT:
Rosanne: "When we met in 2018, Femke had just invented a way to predict someone's 3D body shape without a need for a 3D scanner. It was part of her PhD research and she was starting SHAVATAR to turn the algorithm into a service for fashion brands, helping them reduce size-related returns and enabling on-demand production.
At New Industrial Order we had identified avatar measuring as one of the tools we wanted to add to our Fashion on Demand Toolkit. We were attracted by the fact that the system combines the best of antropometrics and hand-measuring and that it is accurate up to 7 mm. It's the most accurate remote measuring tool we have seen so far. We spoke with Femke about how we could help each other and decided to team up for the Worth Partnership Project to do a virtual fitting experiment.
"It's one thing to be able to extract someone's measurements. But the aspect of emotional fit is often overlooked. Being able to show a person what the garment looks like on his body would be a real breakthrough. The Worth Partnership project provided an opportunity to develop a 3D knitwear design template from scratch, with the entire on-demand supply chain in mind, including virtual fitting. The new design was to become part of N.I.O.'s modular 3D knitwear collection and provide proof of concept in the knitwear domain for SHAVATAR."
THE CREATIVE PROCESS:
"The challenge was to design a distinctive garment, a recognizable style, that functions well in the knitwear on demand supply chain. In our previous 3D knitwear experiments we had learned that the key is to develop knit archetypes. For Worth we designed our second "knit archetype": the Shadow knit. It's a basic, 2-colored structure that is commonly used in hand-knitting. It is a structure that has a futuristic look and works well on 3D knitting machines. Multi-colored artwork can be knitted into it, as a sort of alternative to jacquard."
"We came accross some specific problems when we set up the design digitally. Simulating stretch, flexibility and drape of a seamless 3D knit is not as easy as it looks. We used a combination of software packages to create a virtual knit that does not only look real, but also behaves the same way as the real knit. Then we applied the knit to a seamless 3D shape: a jumper. We used the virtual sample to improve the fit of the garment and to test several artworks. This thourough development process provided us with all the information we needed for efficient Knitcode programming and sample knitting."
"We are very pleased to have defined a clear development process integrating virtual knitwear design with Knitcode development. It's valuable for any designer or brand that wants to start working with 3D knitwear. It's a recipe for top quality 3D knitwear and it gives a framework for creative design without getting trapped in complexity."
THE COLLABORATION:
"Initially there was a third partner in the project. Due to a shortness in programming staff, this knitwear manufacturer was unable to deliver the service we needed within the Worth timeframe. We found a manufacturer willing to take over as a subcontractor and continued the project with SHAVATAR.
In three physical meetings and several video calls we were able to gather what we needed for the experiment. As soon as the project was clearly defined and we had found sufficient men for our test-group, SHAVATAR was able to deliver the avatars quickly. We analyzed them and reported our findings and ideas for improvement back to SHAVATAR."
"The avatars were dressed in our first, standard sized virtual jumper. As the development of the virtual knitwear took more time and funds than expected we were not yet able to create the entire size range.
Subsequently, most of the men in our test group have seen their avatar wearing a jumper that does not fit! But we'll get there. We now know how."
"Another aspect we are still working on is the styling of the avatar. The average user generated avatar, with its clay-puppet-look, seems to distract consumers and negatively influence conversion. We are developing an abstracted version of the avatar that places emphasis on the garment rather than the body, while still being accurate."
THE FUTURE:
"The current knitwear industry is built on mass-production and pushing clothes into the market. 40% of all fabric produced for clothing is wasted without ever being used or worn. With order made 3D knitwear we can change that. The virtual fitting process is not yet available in real time, but it gives insight in the possibilities of the future. It also shows the benefits of making virtual knitwear part of the 3D knitwear development process.
SHAVATAR is working on a web shop plugin. It will recommend the right size and visualize the fit of a clothing item onto the customer's body profile. Brands will be able to benefit from a higher conversion rate and less size related returns.
At the same time, at N.I.O. we are getting ready for production. We are filling an online library with virtual knitwear based on building blocks of Knit code. The virtual Shadow Knit jumper that we designed for the Worth Partnership Project is part of our modular 3D knitwear collection. This collection enables designers and brands to build their own signature styles.
The Worth Partnership Project has contributed to the development of an ecosystem around order made 3D knitwear. There's a growing network of designers, engineers, artists and entrepreneurs who contribute to the transition to fashion on demand. Ultimately it should be possible to have a healthy industrial system that brings forth only what we need, not more."
THE MESSAGE:
"Sustainable fashion is a tough nut to crack. The complexity of the problems is staggering. We have learned that in order to make real impact we should not walk away from complexity, but embrace it. Focussing on a tiny bit of the problem and trying to solve that as an individual designer or company is not enough. We have to broaden our scope and open up to collaboration – even with those we until recently called competitors. Only our collective minds can get us out of the mess we are in."
Projects Edition

WORTH Partnership Projects I

Project Call

2nd Call Projects

Project Sector

Textile - Fashion

Project Challenge

Reinventing craftsmanship
Contact
New Industrial Order fashion-tech designer brand that makes 3D printed knitwear on demand. They create personalised knit-code for 3D knitting machines that they use as 3D printers, to save waste and energy in fashion. It started as a design research project to create a sustainable fashion supply chain by developing technology for clean, fast and local design and production anywhere in the world. Now it forms part of the EU-subsidised Climate KIC Accelerator.
Name

Website

Postal address

Social media
Shasize spinoff from doctorate research in Anthropometrics completed by Femke Dankaerts at the University of Antwerp. Shasize is in the validation phase of the technology and in the early start-up phase with co-founder, Wouter van Putten.
Femke Dankaerts holds a Master of Applied Sciences in Industrial Electronics and is currently working on her doctorate in Anthropometrics at the University of Antwerp.
Name

Website

Postal address
Parrillu's has been co-developing and producing the 3D printed Knitwear by The Girl and the Machine since 2016. Parrillu's is a family business which is fully equipped with all the latest machinery and technology (Shima Seiki whole-garment, flat knitting machines, 3D computers). Parrillu's is an ideas laboratory that produces a wide variety of knitwear for well-known luxury brands. 
Name

Postal address