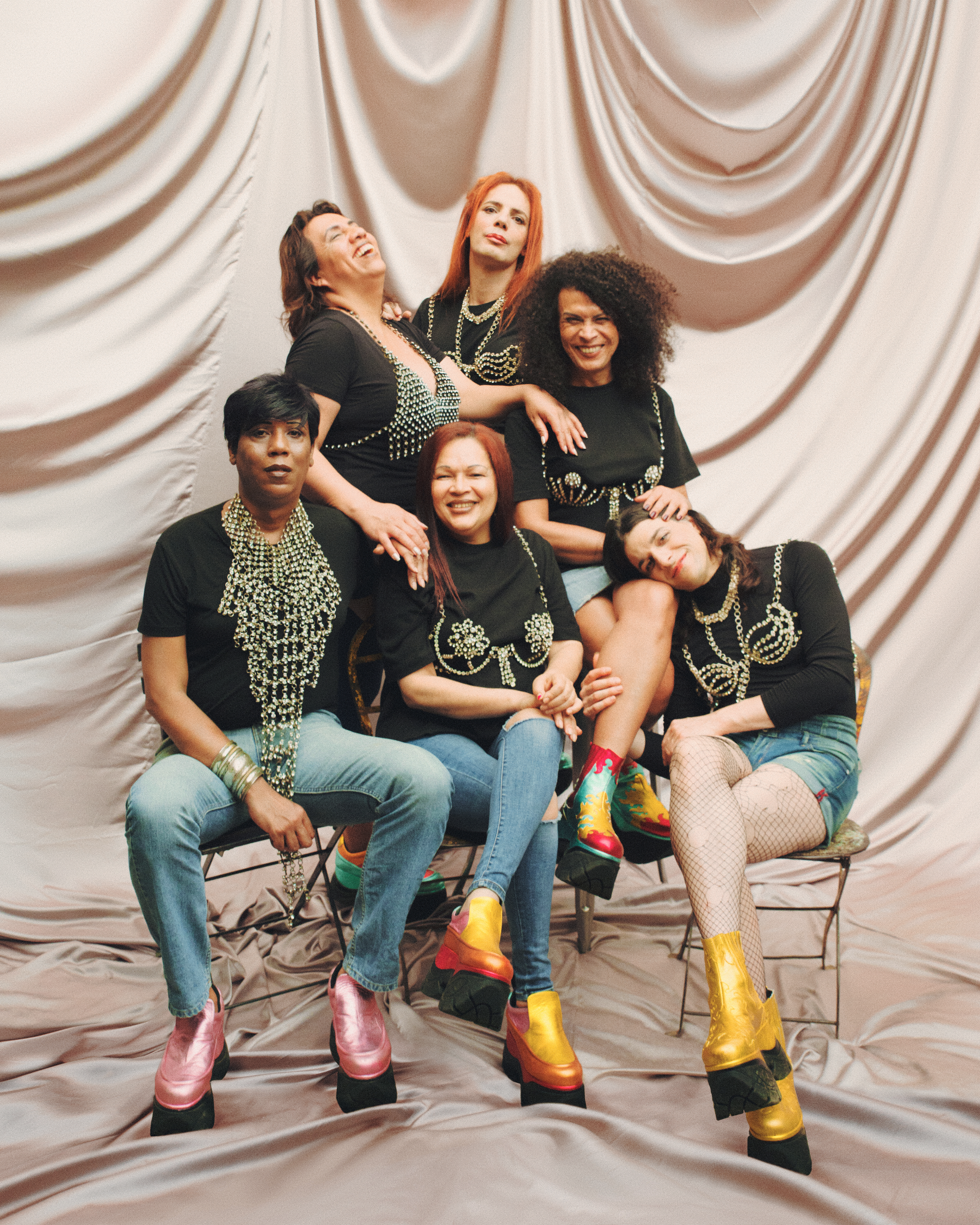 ABOUT
AFT-R Barcelona is a premium brand of platform shoes established in Barcelona and produced in the province of Alicante, Spain. AFT-R is committed to people's identity above gender or any type of condition. Eccentricity, comfort and durability are the starting points for our designs.
We design for those who dare to defy the norm. Beings who are true to themselves and question social standards.
"Why? (& Why not?)" We love platforms because they offer you a wider perspective of the World, allowing you to fly as high as you want. AFT-R is an exciting journey, a trip we're on that we don't want to jump off. Are you joining us?
VALUES
FREEDOM – DIVERSITY – EMPOWERMENT – INCLUSION – ECCENTRICITY – INNOVATION
MANIFESTO:
WE BELIEVE IN WHO WE ARE AND WHAT WE DO: PEOPLE WHO LIVE FREELY WITHOUT PREJUDICE OR TABOOS.
We understand eccentricity as a creative rebellion, as a need to break boundaries to end the stereotypes. A nod to unconventional beauty. That's why our capsule collections are an explosion of colors, fabrics and different textures. A brand that is aware of the 21st Century values, for all of those who dare to color outside the lines. A celebration of what's odd and different.
WE STAND BY FREEDOM OF CHOICE. WE ACKNOWLEDGE AND CELEBRATE EVERY GENDER IDENTITY AND EXPRESSION, SEXUAL ORIENTATION, ETHNICITY OR PHYSICAL CHALLENGES.
Our size range goes from a UK 3 to a UK 11 (36 to 45 in European sizing).
WE CREATE PREMIUM PLATFORM SHOES: HIGH, COMFORTABLE AND LIGHTWEIGHT.
Working with local qualified makers who preserve traditional techniques in the manufacture of footwear allows us the creation of high-quality objects.
Well-made comfortable shoes that last for a long time thus reducing excessive consumption. We also work with materials whose origin we know, controlling their quality and their commitment to the environment.
CAPSULE #01 - AFT-R (NORMA)
CONCEPT
AFT-R does not work in collections but capsules: limited editions that we will present throughout the year independently of the fashion industry calendar.
AFT-R (norma) is the answer to a long process of work and introspection until being able to create the platform of our dreams: dynamic, hybrid, comfortable and with an identity of its own. This first capsule reflects who we are, people with their feet on the ground that constantly challenge established norms. The result is an eclectic product that unifies functionality and eccentricity.
DESIGN
Our handcrafted hybrid platforms have been designed by AFT-R Barcelona and developed exclusively for us with three different finishes combined: covered, painted and injected.
The upper part of the sole is where the craftsmanship resides, it can be covered with all kind of materials, which offers full versatility to the final product.
Right below the first sole we just mentioned, there's a central piece that is hand painted. A wavy line that unites the handcraft world and the sporty aspects of the platform.
The dynamism of the platform is found in the sole of injected TPU. The curves and lines of this last piece offer a natural movement to the platform facilitating a firm step that drives the foot forward.
CAPSULE #02 - SOLEMATES
CONCEPT
A metamorphosis of our first platforms to introduce a new product category: the heeled boot in two styles. True to our genderless design, SOLEMATES is AFT-R's commitment to you: to accompany you on the adventure of daring to BE. An ode to the femininity and masculinity that coexist within each person.
If there is one thing we are proud of, it is the community that has been generated around our project thanks to the emotions and values shared when you wear AFT-Rs. SOLEMATES is a thank you to all our #aftrsouls:
LEAD-UP YOUR WALK, #SOLEMATE!
DESIGN
Comfort, lightness, and height (8cm heel and 3cm platform) are again strong values of the two designs that make up SOLEMATES. The characteristic wave of the first AFT-R Barcelona platforms reappears on the shaft of the boots. In addition, the iconic flames are applied on some models and continue to shine and empower you with the same intensity.
With the new heeled boots, AFT-R continues to offer a wide range of sizes in all models and a Made in Spain production. SOLEMATES is a more accessible line that covers new occasions of use in your day to day life.
There is no longer an excuse to get into AFT-R Barcelona!
Projects Edition

WORTH Partnership Projects II

Project Call

1st Call Projects

Project Sector

Footwear

Project Challenge

New European Bauhaus
Stakeholders
Coordinators
Eric Turro, Barcelona
Address
Alejandra Conesa - Puzle Estudio, Barcelona
Address
Mariona Sauret – Saraustudio, London
Address