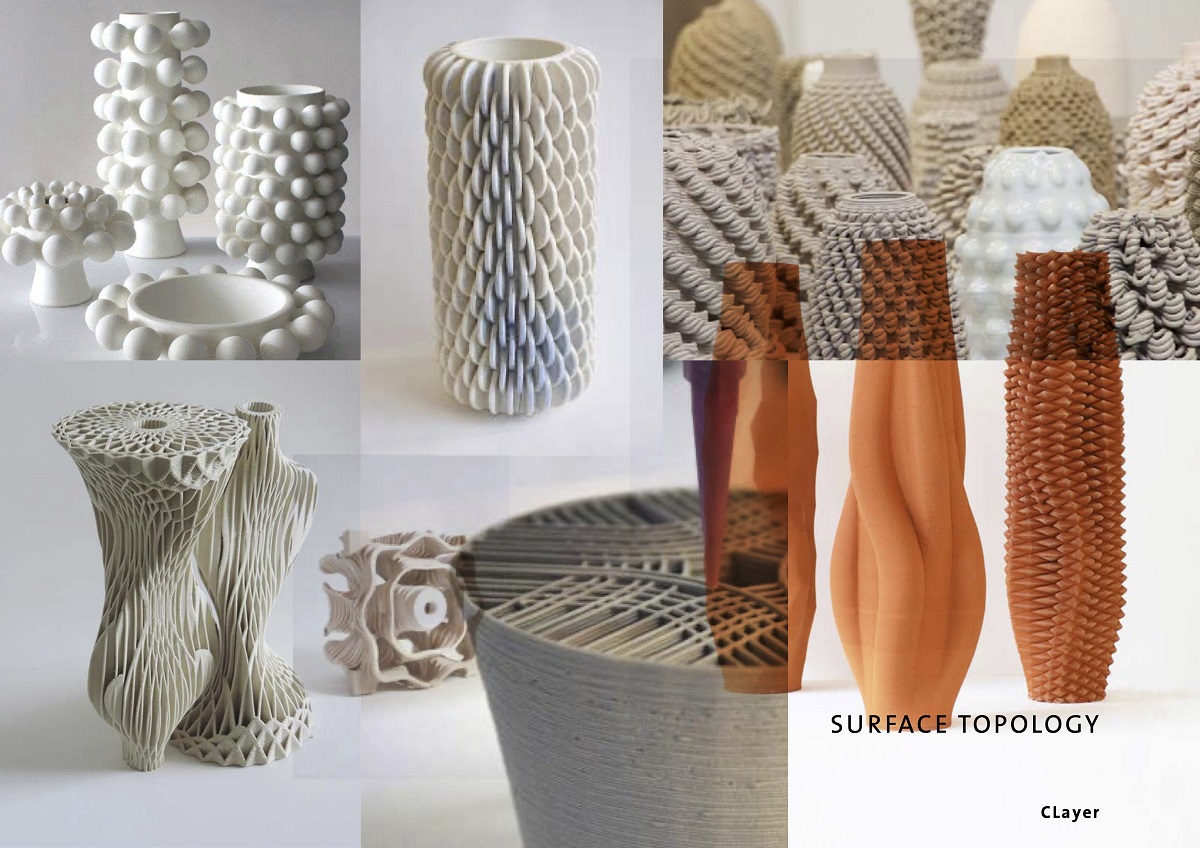 The project
The Clayer project is an effort to design an urban building module that
reduces air pollution. By using a local clay material and structural 3D
printing, we developed a brick that reduces dust particles as air flows through it.
Based on a database of more than 100 Slovenian local clays, we identified a clay from the Soča river as the one with the most appropriate features for 3D printing. The outcome is a design that aesthetically references traditional architectural motive while providing very contemporary look, especially when used in an urban environment.
Partners: Mashoni, Noumena, Wasp;
Clay database: Magusar;
Support: Anže Rogelja.
Storytelling
THE IDEA:
The main idea emerged through reading of Bruno Latour's books, Down to Earth and Becoming Gaia, that among others rethink new ecological narratives, where the nature is no longer an inert background from which resources are extracted for human activities; rather, it has reclaimed its role as an active agent in the fate of the planet. In such context, we found the qualities of the local earthenware for "breathing" the polluted air, the same way microbiome in the soil breaths together with the forest.
As we are the designers working with local narratives, we wanted to experiment with the earth as an innovative material, especially in combination with emerging technologies of 3D printing.
THE BIRTH OF THE PROJECT:
Project was born out of the capacities of core partners. Design approach that appreciates qualities of local materials and traditional forms, technological partner with expertise in clay 3D printing and newly published catalogue of Slovenian clays. All partners were eager to experiment, and not only to learn from the experience, but also to develop a methodological case that would benefit not only the market but also communities in urgencies.
THE CREATIVE PROCESS:
Main contribution to the creative process were lifetime experiences and mastery of involved partners. With such capacities we exchanged experiences, discussed benefits of clay as a local material, stories of developing the nationwide catalogue of clays, etc.  As designers we are aware that crucial part of the process is experimentation with the material—including dirty hands-on digging of a clay at a riverbank.
THE COLLABORATION:
No one individually has a capacity to develop project as we did as a group. Furthermore, our point of departure was a community driven innovation that benefits local communities and not ourselves. On such foundations, the rest is a pure joy.
THE FUTURE:
Based on a proof of a concept, that demonstrated benefits and limitations of a such approach, we aim to find a concrete local community with which we would build the first application. So, we will approach some municipalities with air-pollution problems and develop first onsite pilot case.
THE MESSAGE:
You are never alone. There are always mutual interests, you just need to share your ideas and discuss opportunities. Through some work, mutual satisfaction is more than just your own.
Projects Edition

WORTH Partnership Projects I

Project Call

2nd Call Projects

Project Sector

Furniture - Home Decoration

Project Challenge

Social Innovation
Contact
MASHONI is a design studio creating timeless, fresh, clear, elegant and comprehensive design solutions. They cover the entire aspect of research, product and brand development for hi-end audio, lights, wood production, fashion and press.
Name

Postal address
WASP is the brand name of CSP srl, a company producing custom 3D printers for specific applications and accuracy, from large industrial printers to domestic printers with local materials to a wide range of Delta printers for House, Food, Healthcare, Energy, Art, Digital Craft, Education.
Name

Postal address
NOUMENA is a company focused on design, research and education. The studio investigates the boundaries of new digital paradigms and design strategies applied to architecture, robotics and advanced materials, through a hands-on and experimental approach. 
Name

Postal address