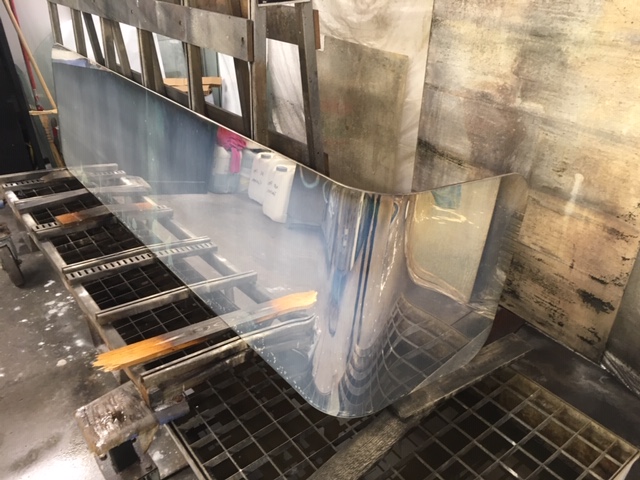 The project
This project is part of the history of the gilded mirror by reinventing the shape and preserving the manufacturing process by updating the Églomisé glass techniques of the seventeenth century in France. The aim is to produce a collection of mirrors based on the tradition of luxury art objects, obtained through a recycling process and a sustainable approach in re-using mirror waste. The project brings together tradition, heritage, design and craftmanship while solving a problem of waste in the glass industry.
Storytelling
THE IDEA:
While visiting Goude glass I was inspired by their amazing ability to bend glass. They also have a facility to make mirrors and silvering glass. We decided combine these qualities in a new bended mirror. We first worked on proposals to come to new outcomes. During the design process we communicated a lot on what was possible.
The gilding from the visit to Atelier du Doreur was a very nice way to get in contact with a very old cast. We decided to highlight the outline of the mirror with a gilded edge.
"We had a very nice dinner in France to get to know each other. I think informal meeting are always crucial for a project to make it work!"
THE BIRTH OF THE PROJECT:
We focused on combining forces. Design, industry and craft. The visit to Atelier du Doreur and Goede glass was crucial to get an understanding of what and how they were doing things. This lead to the bended mirror I designed. Without the visit this would have not been possible.
It is a new hybrid form. First to make a very unique bended mirror for inside or around a corner or going from floor to ceiling.
We believe this mirror will stand out from other mirrors due to the fact that it is a continuous line moving around a corner. The magic of liquid glass.
THE CREATIVE PROCESS:
The development and process went very well due to the great expertise of Atelier du Doreur and Goude glass. I think the challenge is to combine forces and look at what everybody can do best.
THE COLLABORATION:
All went very well due to the great experience there is. By joining forces we can do and make things we usually don't make and do.
THE FUTURE:
We will hopefully sell the product to private collectors, retail designers and interior architects. Hopefully we can also do custom special editions.
THE MESSAGE:
Collaborations are crucial. Sharing knowledge and experience is a key factor into making good design.
Projects Edition

WORTH Partnership Projects I

Project Call

2nd Call Projects

Project Sector

Furniture - Home Decoration

Project Challenge

Circular Economy
Contact
ATELIER DU DOREUR based in Rennes, France.
Atelier du Doreur activities include the restoration of antiques and gilding in collaboration with several designers. Its founder, Doreur, has been a member of the LAB association for almost 10 years. 
Name

Postal address
Product and furniture designer. He graduated Cum Laude at the Design academy Eindhoven in 2009. After that, he worked for two Dutch design studios. He opened his own studio 5 years ago. Lex focuses on experimental material research to find new ways of producing and creating objects. 
Name

Postal address
GOUDE GLASS founded in 1976. Goude Glass has different points of view from the design industry, including not only in-depth knowledge of the industry and plant but they  also specialise in producing glass for layouts.  The company has worked for famous French luxury brands such as Hermes, Cartier, Dior, etc. and is based Rennes, France.
Name

Postal address