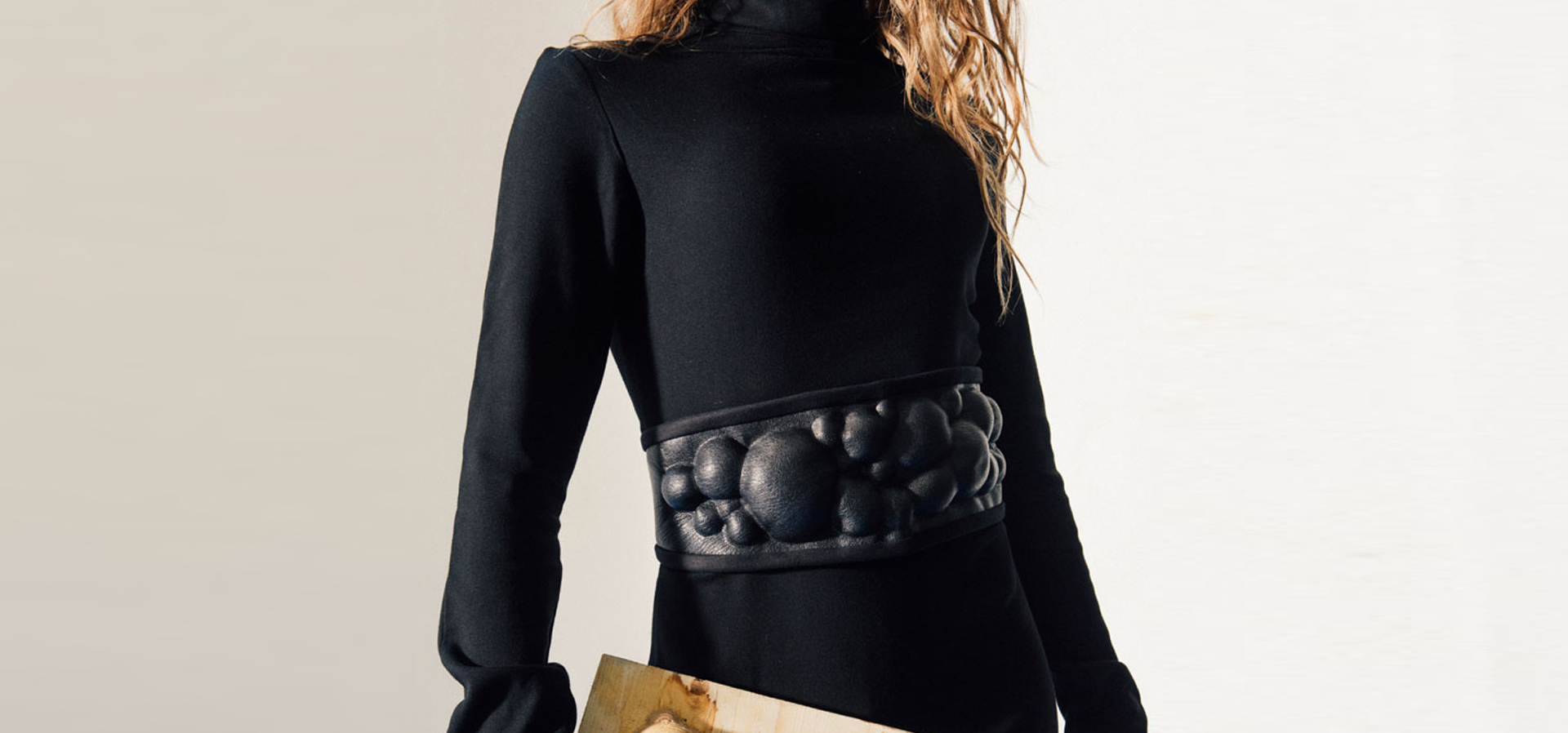 The project
ESTHER -LOVES- HATES PVC: . 3D MOLDED LEATHER, BLENDING CRAFTMANSHIP WITH DIGITAL FABRICATION
THE CHALLENGE
To design a fashion collection using new digital technologies with leather such as 3D printing and moulding to turn a piece into art.
THE SOLUTION
The progress of this project can be quantified in two phases, where the same digital technologies are researched and developed, meanwhile the raw material changes, due to manipulation approaches and impact on health issues:
Phase 1: PVC recycling approach
Phase 2: Leather used for emphasis on demonstrating how these new digital tools are shifting the contemporary practices of fashion design.
The shift in raw material is clearly and correctly justified, as manipulation of PVC causes health and sustainability issues, in small workshops and it would need a very complex infrastructure to be implemented for the development of one project.
The Project introduces innovation using new technologies, in a traditional sector such as the Leather one. The combination of artisan work with the digital technologies employed in this project: 3D modeling, CNC milling, moulding and vacuum forming offer a wide range of possibilites for new designs.
The main focus of the new collection design was on organic shapes, bubbles, and several garments and accessories were developed: 2 belts, 1 bag, 1 coat, 2 shoulder pieces and 1 sleeve.
NOW…
You can buy the collection under Esther Perbandt own Brand:
https://estherperbandt.shop/collections/women
Projects Edition

WORTH Partnership Projects I

Project Call

1st Call Projects

Project Sector

Textile - Fashion

Project Challenge

Reinventing craftsmanship
Contact
German designer who was toughened in Moscow and polished in Paris. She completed a fashion design degree at the University of Fine Arts in Berlin Germany, a European Master's degree in Fashion and Textile Design studies at Institut Francais de la Mode. After that, she worked 1,5 years as a designer for the French fashion house "Chacok" at the Cote d'Azur, France, before returning to Berlin to launch her own fashion brand "Esther Perbandt" in January 2004.
Name

Website

Postal address

Social media
Cutting-edge education and research centre dedicated to the development of architecture capable of meeting the worldwide challenges in the construction of habitability in the early 21st century. IAAC is a platform for exchange of knowledge with faculty and students from over 40 countries, including USA, China, India, Poland, Italy, Mexico and Sudan.
Name

Website

Postal address

Social media