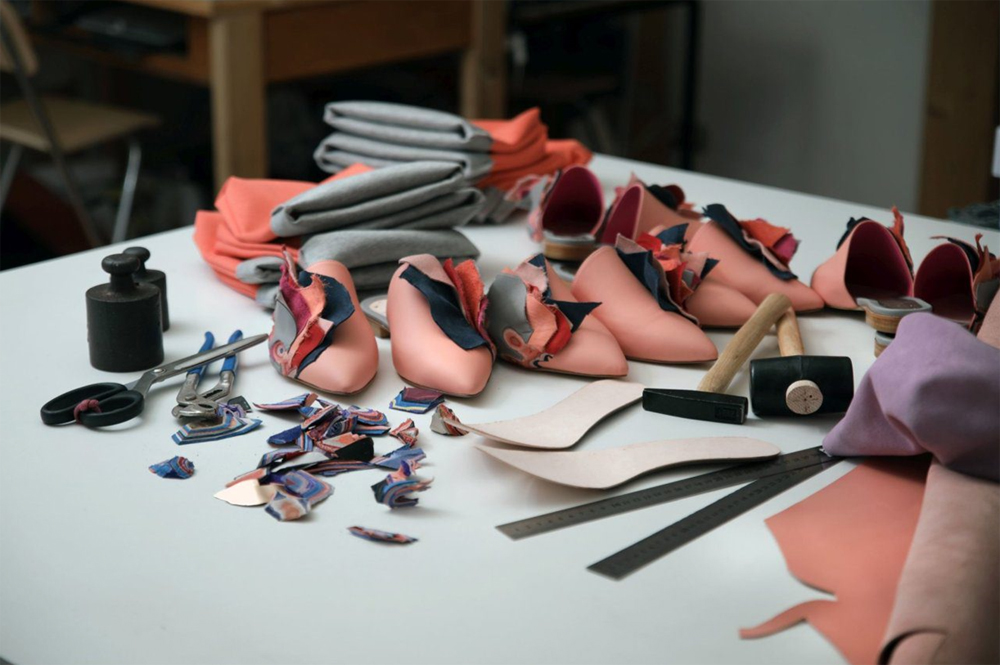 The project
With the focus on ergonomic and functional aspects, the sole is manufactured using leather waste.
Storytelling
THE IDEA:
My name is Gabriella Veszpremi and I am the designer of Layers. Together with my team, we have been working on the perfection of my own material research.
THE BIRTH OF THE PROJECT:
Our aim in this project was to develop a material from waste leather that can be used for many purposes. Shoe sole is a very critical element, so we chose this to test our new material.
THE CREATIVE PROCESS:
To make the built materials ready for many usages, we involved CNC technology. For this computer numerical control cutting techniques, we needed to build up a 3D modell. 
First, we made a clay modell. This modell was not perfectly symmetric, but it was good enough to scan and have starter form for the 3D modell. Later the scanned free forms were modelled.
We made a complex form shoe sole modell because we wanted to test how the material can be manufactured for extremes these forms. CNC cutting was also important since we believed, that with this technology the future manufacturing time could be shorten down.
Result of the CNC cutting was 2 sided. We experienced how this technology needs an extremely hard material to achieve the optimal result. Our material was tested with several sustainable glue to make it hard enough. The result also showed us that the leathers need to be carefully selected, because the many layers with different mechanical feathers can cause surprising results.
THE COLLABORATION:
During the partnership, Inpelsa was supporting the technology with materials. Material research and development was fulfilled in our Budapest based studio, helped with high quality material from Valencia. For the experimentations, we used leather and more than 20 kilograms of waste material. The combination of different surface treatments, leather types, format and sizes give us a huge variety of test material.
THE FUTURE:
By the end of the project, we developed our own material which can be used for purposes in the fashion industry. We also tested new technologies to find the holistic solution between craft and industrial manufacturing.
THE MESSAGE:
We are looking forward to keeping on working and find the best usage for our layer technology.
Projects Edition

WORTH Partnership Projects I

Project Call

2nd Call Projects

Project Sector

Footwear

Project Challenge

Circular Economy
Contact
Designer from Budapest, Hungary. She graduated as a Fashion and textile designer with a master's degree of Arts from Moholy-Nagy University of Arts and Design in 2017. Ever since, she has completed several research projects to develop her skills and technique with the aim of making the fashion industry sustainable. She has designed bags and accessories but always had a desire to create ethical shoes.
Name

Postal address
World leading Spanish lambskin tannery, specialized in high quality double face, nappa, nubuck and suede used in footwear, fashion and accessories.
Name

Postal address