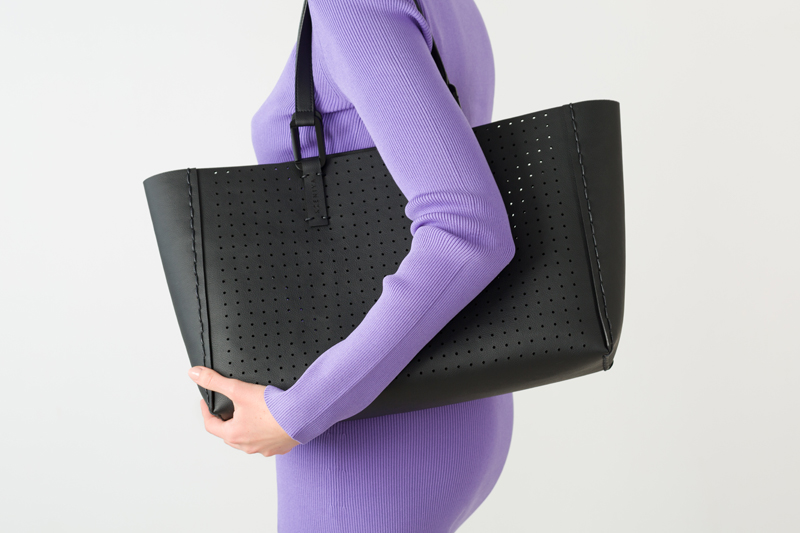 The project
3-piece bag collection made of bio/vegan apple waste leather.
THE CHALLENGE
The leather industry is one of the most polluting industries in the world and the number of customers that are reluctant to buy animal leather accessories is growing. A quarter of 25-34 year olds identify themselves as vegan or vegetarian and there has been a 600% increase in people adopting veganism over the past 3 years- There is a need to work and use more and more bio/vegan leather that has the same properties in terms of softness and durability.
THE SOLUTION
The project will develop a 3-piece bag collection made of bio/vegan leather made of apple waste, using neither animal nor synthetic materials and designed in such a way that they could be forever reinvented, creating a solution to overconsumption and the fashion industry's negative environmental impact. Bags will be perforated so that people can add attachments, jewellery and accessories (nametags, initials, symbols, shapes, and characters).
Storytelling
THE IDEA:
It didn't happen spontaneously; it was a gradual process which probably took several years to crystalize. I paused career to spend time with my children and during this time became aware of the environmental challenges we face, this realization deeply affected me. As a designer I wanted to address various issues in my design work. After becoming vegetarian I realized that there is a massive gap in the market for quality vegan accessories which substitute animal leather. I mean products not made of plastic, like PU 'vegan' leather but a natural substitute. There are some companies creating gorgeous vegan products, but this sector still needs much more variety. Especially considering the fact that the veganism movement is massively on the rise. 
THE BIRTH OF THE PROJECT:
Right now, rich nations devour 28 tons of material per person per year. That's four times more than ecologists say is sustainable. It requires an extraordinary amount of energy to extract, produce and transport all that stuff. By using less of it, we can shrink global energy demand and make it much easier to decarbonize the economy. It also provides our best hope of reversing other aspects of ecological collapse. In response to this I decided to create truly sustainable products made of bio vegan, circular, post-consumer materials designed in such a way that they could be forever reinvented. Our bags are long-lasting, repairable and recyclable. They are versatile, designed in such a way that people can modify and style them over and over thus removing the need to buy new products and also bringing back the fun and thrill of creation and self-expression through design. 
THE CREATIVE PROCESS:
We've designed a range of products that could be forever reimagined and redesigned by customers themselves. This will give them a thrilling customer experience and also offer a solution to overconsumption. Instead of buying new bags every season or so, customers could just reinvent their styles with new accessories. It was important to design a small range of bag styles that could offer unlimited variations in terms of practical aspects and styles. It took some time to strip down anything that wasn't important and at the end have designs as minimal as possible, so people can always add to them or remove to have them very 'clean' looking. We've also spent considerable amount of time testing bio leather finishes to make sure, that the leather that we work with is durable, practical and as scratch resistant as possible, so that adding and removing attachments won't damage it.  
THE COLLABORATION:
Our goal was not just to develop the prototypes, but to get everything in working order, so we can launch and start selling these products commercially as soon as we are happy with the final designs. This means setting up the whole supply chain, from sorting out the right packaging partners, material suppliers, to implementing practices that are the most economical and sustainable. My partner is an Italian manufacturer, who I have worked with for many years prior to this project. We've split the responsibilities, them being in charge of the production and me in charge of the design. Alone I wouldn't have been able to make this project commercially feasible.
THE FUTURE:
We are looking for investors. Also launching crowd funding campaign to kick start our production. Our products will be sold exclusively on kzeniya.com website. And can't wait to see people wearing our designs and seeing what styles and looks they come up with. It's exciting to be able to offer a product that gives people opportunities for self-expression and the thrill of creativity. 
THE MESSAGE:
This project has massively benefited from collaborations with Worth mentors as well as our manufacturing partner. Thanks to all the group discussions and taking notes of various opinions and tastes, we now have developed sleek designs that merge innovation and craftsmanship, hand work and machine work in a perfect synergy.  
Projects Edition

WORTH Partnership Projects I

Project Call

3rd Call Projects

Project Sector

Leather - Fur

Project Challenge

Circular Economy
Contact
She graduated from London St Martin's College of Art & Design and has worked for renowned companies including The London Royal Opera House and The Scottish Ballet, Alexander McQueen and several projects showcased at
the Science Museum London, Science Gallery Dublin before launching her own brand in 2010.
Name

Website

Postal address

Social media