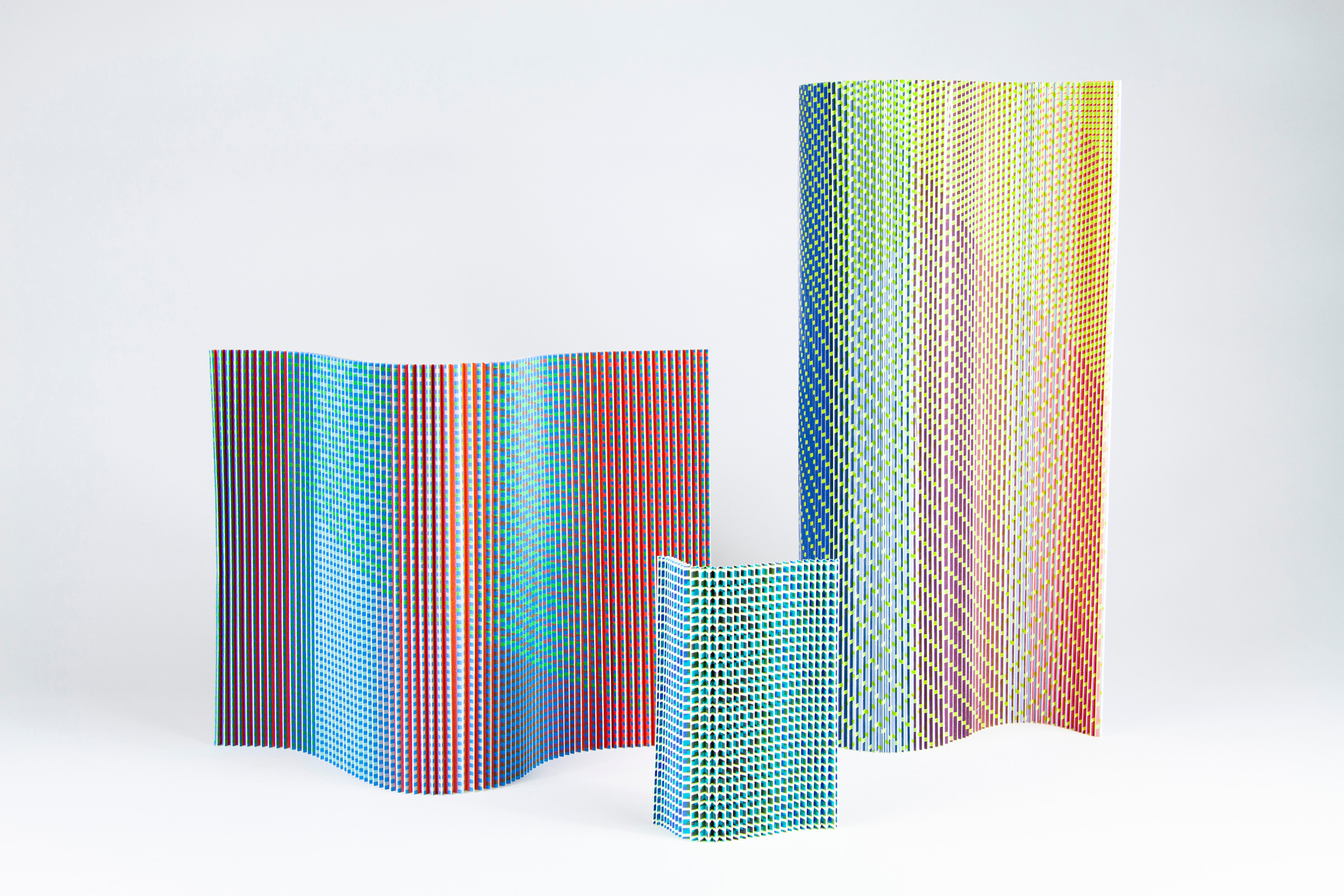 The message of the project
Inspired by traditional sartorial pleating techniques, Dutch product designer Fenna van der Klei and the Spanish technical center Fundació Eurecat have mastered a new craft: structural textile pleating. By applying this technique, they create a sculptural room divider made entirely from textiles, without the use of adhesives or hard materials. The divider is infused with vibrant colors and relief that appear to dance in the space.
The room divider is constructed as a single standing textile piece. Its carefully selected color palette captivates the eye, and the combinations of colors interact with one's perception, evoking a sense of movement. Vibrant optical illusions give it a soft and domestic feel, yet they shimmer like the facets of a gem. This magical effect is the result of extensive research into color on pleated surfaces and is achieved through structural textile pleating. This newly developed technique allows for the creation of tall, self-supporting textile structures without the need for additional elements.
The idea behind the project
For centuries, soft textiles have been the defining materials used to bring warmth, comfort, and lightness to a space. However, to this day, textiles remain a labour and resource-intensive material with a short lifespan. They are often incorporated into products in ways that make recycling challenging. In '(r)evolutionary pleats,' Fenna van der Klei and Fundació Eurecat explore the traditional textile technique of pleating. They gain valuable insights from it and combine it with new production methods to develop design solutions with a low carbon footprint that promote the circular economy. The textile self-supporting room divider they are creating serves as evidence of this philosophy and showcases a wide range of innovations.
What next?
Fenna van der Klei and Fundació Eurecat are collaborating to drive innovation with an eco-design approach. Through this project, they are accelerating the circular economy. Many similar product solutions consist of heavy items, often crafted from resource-intensive materials that are challenging to recycle. They believe their product offers a completely fresh look and feel that is easy to customize, thanks to affordable and efficient full-color digital printing on textiles. Furthermore, it introduces a new narrative of luxury through innovation. They aspire to partner with performance-driven textile companies to expand their reach and impact.
Projects Edition

WORTH Partnership Projects II

Project Call

2nd Call Projects

Project Sector

Textile - Fashion

Project Challenge

High-performance materials
Stakeholders
Coordinators
Fenna van der Klei
Address