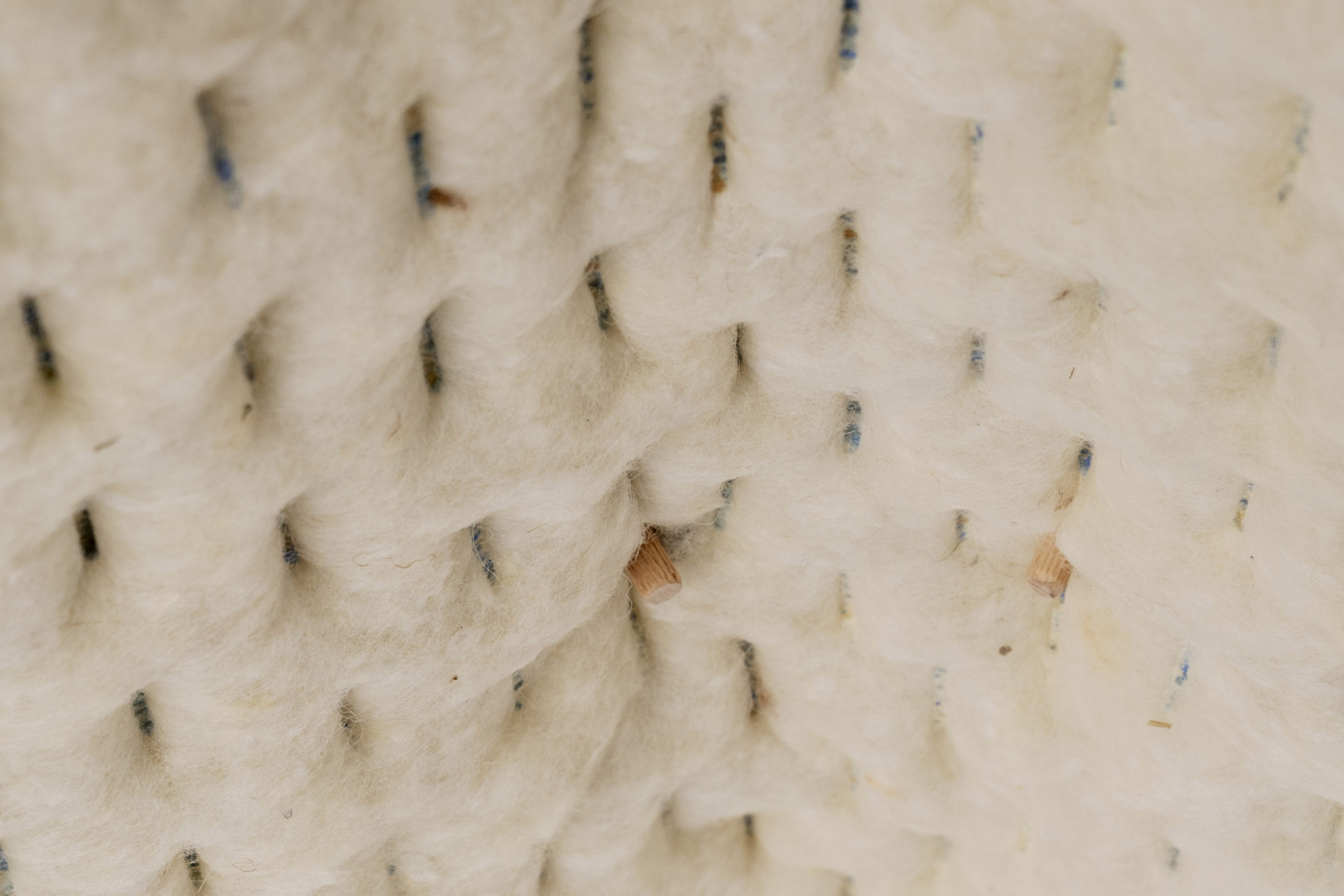 The project
SUSTAINABLE ACOUSTIC PANELS: HIGH-END HANDCRAFT MEETS DIGITAL MANUFACTURING TECHNOLOGY
THE CHALLENGE
In the years, co-working spaces have grown in Europe as well as other public areas. There is also a need of functionalise and decorate these "third spaces" in work environments which represent unassigned destination that allows employees to escape the monotony of a desk, collaborate on the fly and benefit from a change of scenario with burning through the task list.
Technology is a driver in how we work and with continuous improvements we are no longer wired to a desk. Resulting in an increase in creativity and productivity. But all third spaces are not created equal. In interior decoration, there is an increase demand of using sustainable products that also have a double-function: technical and aesthetic.
THE SOLUTION
The solution offered by the project is to develop unique acoustic interior panels, by combining the digital manufacturing philosophy and micromoulding approach, using sustainable and recycled materials and new design based. The panels are modular so the can be mounted and dismounted in an easy way to create different ambiances.
In order to reach the objectives, they were applied:
The Capitoné effect, which is interesting to use because it's an unconscious reference to high quality manipulation used for classical textile and leather. It also emphasises the softness of the material with a reinterpretation of classical capitoné sewing textile by the micro-moulding digital technique of capitoné. Art hand-made colloration.The choice of the Cloudy Japanese aesthetic aims to achieve a relaxing atmosphere and natural feeling.
The back side is less colored on purpose, only subtile coloration inside the micro-moulded Capitoné comes out.
Sustainable circular design: Fully based on recycled or natural materials: untreated wool, recycled denim, natural (recycled) wood, flax and PLA (biobased plastic). All materials sourced in NW-Europe (reduced footprint). Easy (dis)assembly of each component: very customisable during production and easy disassembly at end of lifetime for material re-use.
Sandwich construction of 7 layers:
1 – Wool/denim double surfaces (front & back panel) – white/blue cloudy effect with lightly 'dot' effect painting & micromoulding embossing 'capitoné' effect
2 – Rigid flax/PLA composite plates for stiffness (2 plates) – hotpressed + lasercut
3 – Wood subframe and snapfit pins to give the layers sufficient tensioning.
4 – Recycled denim acoustic material (inside sandwich construction) – These are certified plates with a 0.95 NRC at 45mm thickness and a fire class of B/S1/D0)
Fireproof and soundproof tested!
NOW…
The partnership is ready to sell the product on demand.
Projects Edition

WORTH Partnership Projects I

Project Call

1st Call Projects

Project Sector

Furniture - Home Decoration

Project Challenge

Reinventing craftsmanship
Contact
A+Z DESIGN BY GENEVIÈVE LEVIVIER
Genevieve Levivier has a Masters in Philosophy at ULB (Universite Libre de Bruxelles) BA in Screen-printing at ENSAV La Cambre (Ecole Nationale Superieure d'Art Visuel, Bruxelles). BA in Art & Technical Textile at Institut Francisco Ferrer, Bruxelles. Superior Degree Diploma in Painting at Academie d'Uccle, Bruxelles. Program/coaching in Business Model with Fondation for Young Enterprise (program led by the Region Walloon). Program/ coaching in SMSE managerial enterprise with CAPINOVE at Solvay Economic school ULB. Program/ coaching in SMSE managerial enterprise with JOB'IN (program led by the Region Walloon).
Name

A+Z DESIGN BY GENEVIÈVE LEVIVIER

Website

Postal address

Social media
After a successful 15 year career in energy technology and energy innovations, Bas started in 2014, at the Royal Academy of Arts The Hague, to develop his personal passion: designing and crafting of products. After his propaedeutic exam interior architecture, he was allowed to start a Masters in Industrial Design.
Name

Website

Postal address

Social media