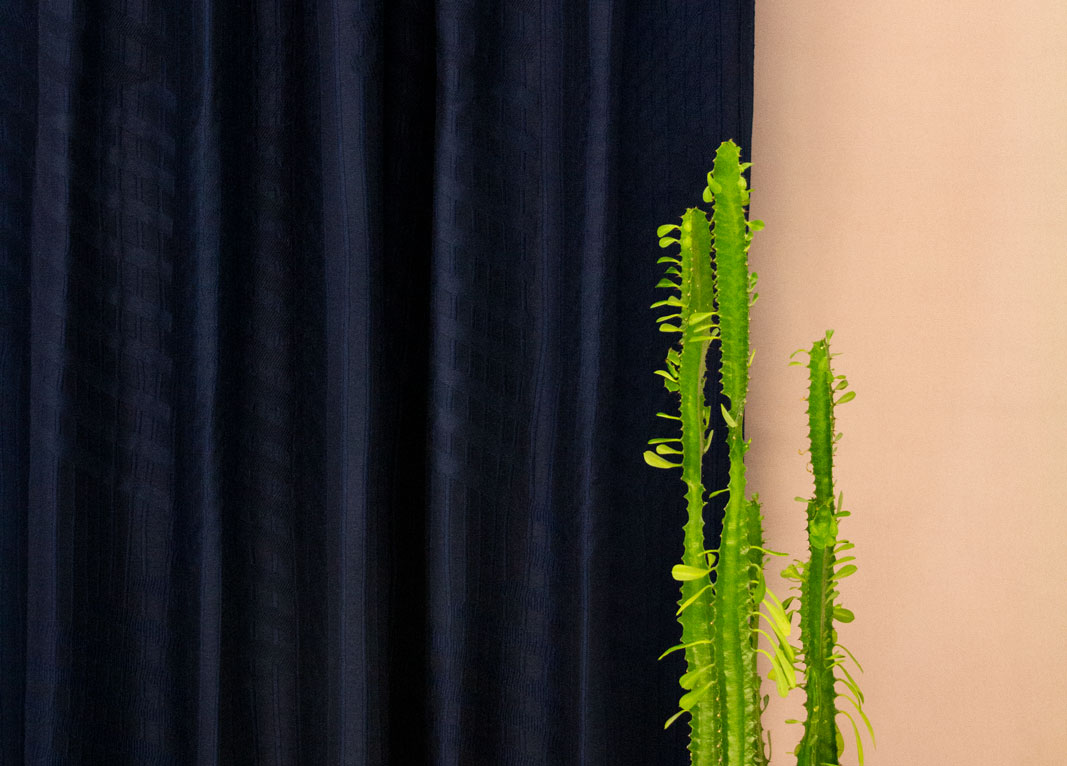 The project
A curtain that changes over time.
THE CHALLENGE
According to Bauhaus principles, social awareness and economics should be integrated into design, and this includes ensuring socially fair production. European products should be socially innovative in use, encouraging people to value an object's entire lifespan.
THE SOLUTION
To produce a curtain whose appearance changes with time due to the mix of materials used. The first, a naturally coloured yarn, is less lightfast than the second material, a synthetically coloured yarn. The result: Over time the natural dyes fade, revealing a pattern.The curtains's intentionally designed ageing process makes it highly innovative. The idea is not just to create an interesting design, but also to foster a debate about sustainability and the relationship we have with our belongings over time.
Storytelling
THE IDEA:
Our idea came from the sun: After we found out about the environmental harm caused by the textile industry, and industrial dyeing in particular, we started to research natural dyes. Natural pigments have a lower lightfastness than synthetic pigments, meaning they fade faster when exposed to UV light. People often see this as a negative quality, but we decided to use it as a feature in our design. The result is a curtain which combines material that changes in sunlight with material that stays the same. 
THE BIRTH OF THE PROJECT:
We were thrilled by the idea of a design that "ripens" with time. Since the process of fading takes time, the textile only comes to life after purchase, encouraging people to value an object's entire lifespan. Our approach is undogmatic, embracing both the natural and the synthetic.. But it is also provocative, bringing the "slow fashion" debate to interior design by incorporating the ageing process into the product.
THE CREATIVE PROCESS:
A major challenge was to develop a pattern that shows the fading process, looks good in all stages of fading and is double sided. We found the solution by weaving samples at our partner Rohleder and screen printing big pieces of textile. Besides an attractive pattern, we were looking for a high quality touch and fall. It was hard to source European wool of the fine quality that we needed, but we were lucky enough to find regional wool produced by a herd of sheep in South Germany. 
THE COLLABORATION:
Despite the pandemic, we managed to cooperate closely with Färberei Fritsch and Rohleder. Fritsch helped us source virgin wool and were able to dye the two materials in exactly the same colour so we had a curtain that was completely monochrome before it faded. The visits at Rohleder were fruitful moments of sampling and understanding textile production on an industrial scale. We were able to develop our own bindings on a hand loom and implement them on their industrial jacquard loom, which was a great experience. By joining forces we realized a product that none of us could have created alone. 
THE FUTURE:
In the future we will offer our product to architects and interior designers for use in settings such as public rooms, institutions and hotel lobbies. With its striking looks, tailor-made dimensions and high-end materials, the design is perfect for these environments. We want to establish the use of natural dyes as a real alternative to synthetic dyes in the textile industry. We are already considering more applications and are ready to work with textile publishers and suppliers who want our light responsive fabric for their catalogues. Currently the curtain is available in three colors: Dark blue, grass green and rose pink. 
THE MESSAGE:
Our unique curtain shows how rich and complex natural dyes can be – proving the true power of plants. Designed according to Bauhaus principles, the curtain is not just designed to last; it actually develops and improves with time. The design shows how a consumer can have a lasting relationship with a product. Both the user and the object grow old gracefully, side by side.  
Projects Edition

WORTH Partnership Projects I

Project Call

3rd Call Projects

Project Sector

Textile - Fashion

Project Challenge

Reinventing craftsmanship
Contact
Meyers & Fügmann is a studio for textile and product design that investigates the relationship between colour and material. They specifically use colour as a medium to underline material properties and make steps in the production process visible.
Name

Postal address

Social media
Färberei Fritsch GmbH is an Austrian dyer that works on commission. Fritsch has been focusing on natural dyes for the past 15 years and is one of the only manufactures in Europe that combines the age-old art of natural dyeing with new technology.
Name