Dutch Design Week took place at VEEM in Eindhoven, starting the weekend of October 19th and running until the 27th. In more than 110 locations across the city, DDW organizes and facilitates exhibitions, lectures, prize ceremonies, networking events, debates and festivities. This was the second international event where 1st call winning projects presented their projects after the amazing success of the Milan Design Week 2019 earlier this year.
innovation

Saturday 19 October 2019, 00:00 - Sunday 27 October 2019, 23:45 (CET)
Practical information
When

Saturday 19 October 2019, 00:00 - Sunday 27 October 2019, 23:45 (CET)

Languages

English

Website
Description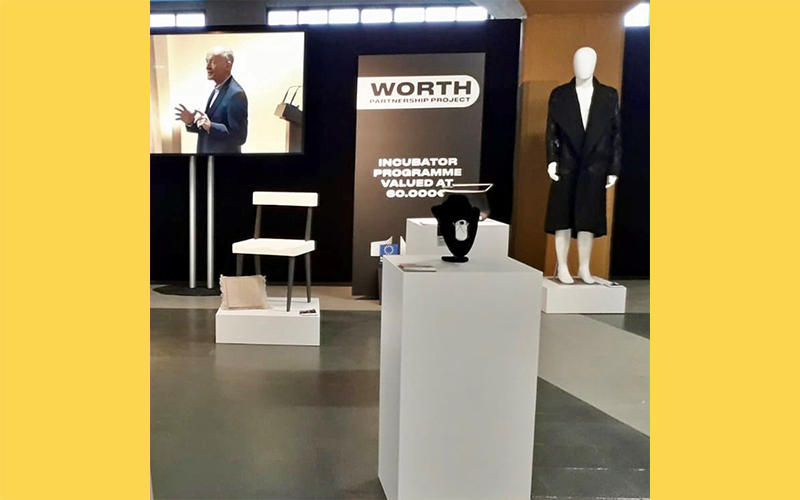 Taking place every year in October, Dutch Design Week is the biggest design event in Northern Europe presenting work and ideas of more than 2,600 designers to more than 350,000 visitors both national and international. This year it was a major success, attracting people from all over Europe to see exactly what WORTH is all about and giving designers a chance to showcase their unique and innovative talent.
During DDW for the first time the projects of the WORTH Partnership Project first call winners were exhibited. They included 20 highly innovative projects created by 58 transnational partners from 18 European countries and ranged from wearable devices, IOT design and fashion products, processes for product customization, green and sustainable solutions. All projects were a concrete demonstration of how innovation, creativity and transnational partnerships can form the basis of Europe's future.
It was a satisfying experience for the WORTH team to finally showcase these stimulating and fresh projects and we can definitely say the same for all of those who came to visit our booth and learn more about the 1st call winning projects.
We hope we gave them insight into just how important innovation is and just how easily it can be incorporated into items that are part of our every day lives.
Likewise for our partners, it was a very special moment to finally showcase the results of all of their hard work and determination. In addition, this was a great opportunity for the partners to be featured and recognized on the DDW website.
Through the course of the week we documented all the activities and projects in our booth and our instgram stories were really brought to life by all the passion and insight from our WORTH partners. We hope you were able to come along and see the innovative 1st call winnning projects!