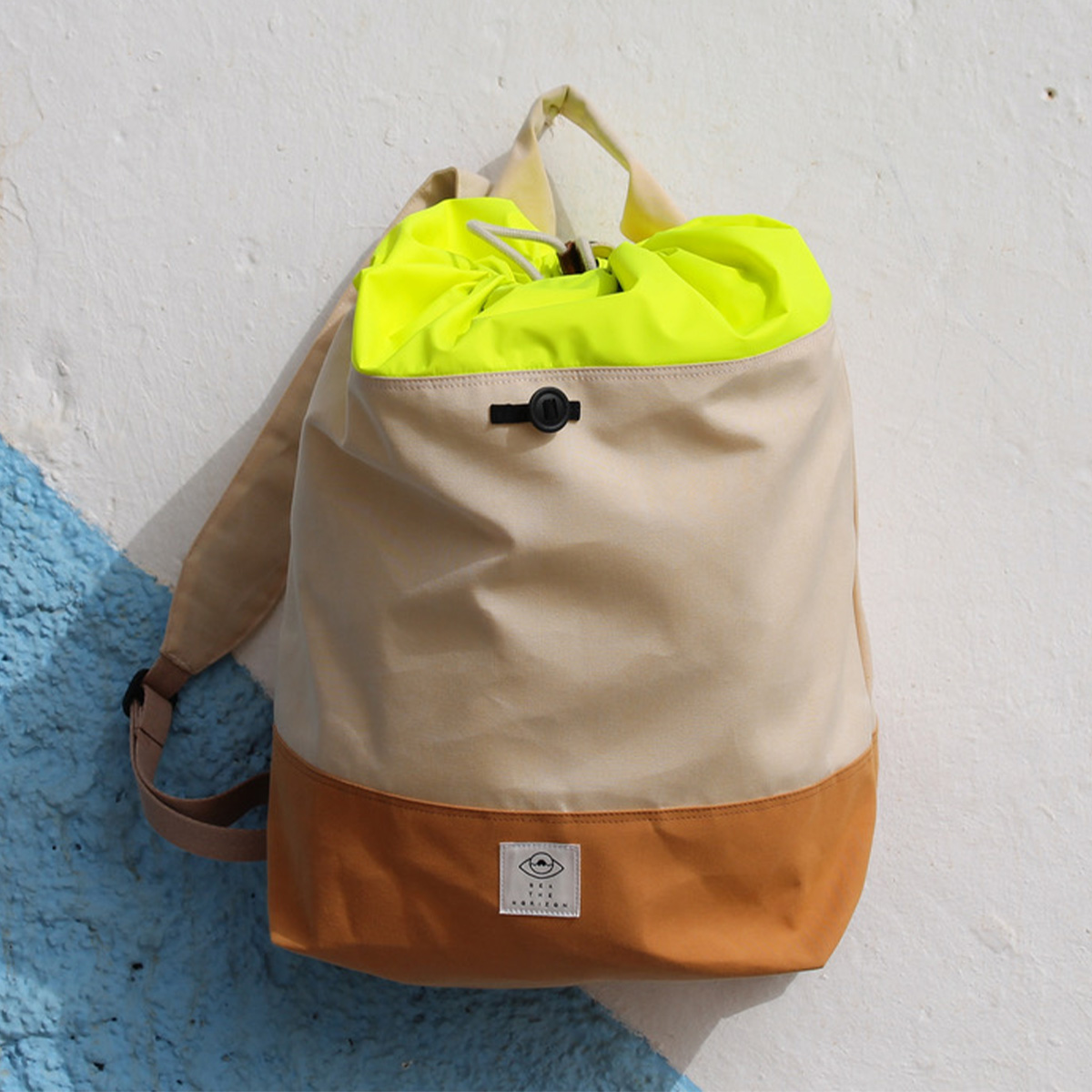 The key message of the project
The design of the backpack is created with a minimalistic approach for practical use and sustainability. It features two compartments, one of which is waterproof and one for normal use. It can be closed by either a rope or rolling it to the front. Invisible pockets are integrated outside and inside.

The outside material is strong, water, UV and dirt-resistant, making it perfect for outdoor use and longevity. The shoulder straps are made of 3D printed parts of recycled plastic.
The design incorporates contemporary colours with a natural feel for an aesthetic look that can be used daily and last a long time.

Additionally, a fluorescent yellow material is used on top of the backpack for visibility for yourself and to keep an eye on your bag while in the water.
The idea behind the project
The Belgian designer, who is also a passionate surfer, wanted to create a practical and beautiful wetsuit bag. After years of using shopping bags to carry her wetsuit and noticing others doing the same, she combined the knowledge of both passions to create a bag for the surfers need. Living by the ocean in Morocco among the surf culture helped her to develop the ultimate wetsuit bag.
How does the project contribute to the New European Bauhaus Initiative?
The backpack is innovative and unique by its minimalistic and practical approach. Using two compartments, the contemporary colours and the visibility part on top makes it stand out.
What next?
Looking to the future, the designer, in partnership with Labeldby, is focused on creating a more sustainable solution for the waterproof fabric, ideally made from reused plastic. They are also working on a lightweight, fast-drying towel made of reused plastic to match the bag, taking inspiration from Moroccan culture for the print.
The designer is also looking for a sustainable production partner in Europe or North Africa, ideally connected to a social project for women in Morocco. The goal is to create a production place that offers single mothers a fair chance to work and integrate into society.
Projects Edition

WORTH Partnership Projects II

Project Call

1st Call Projects

Project Sector

Accessories