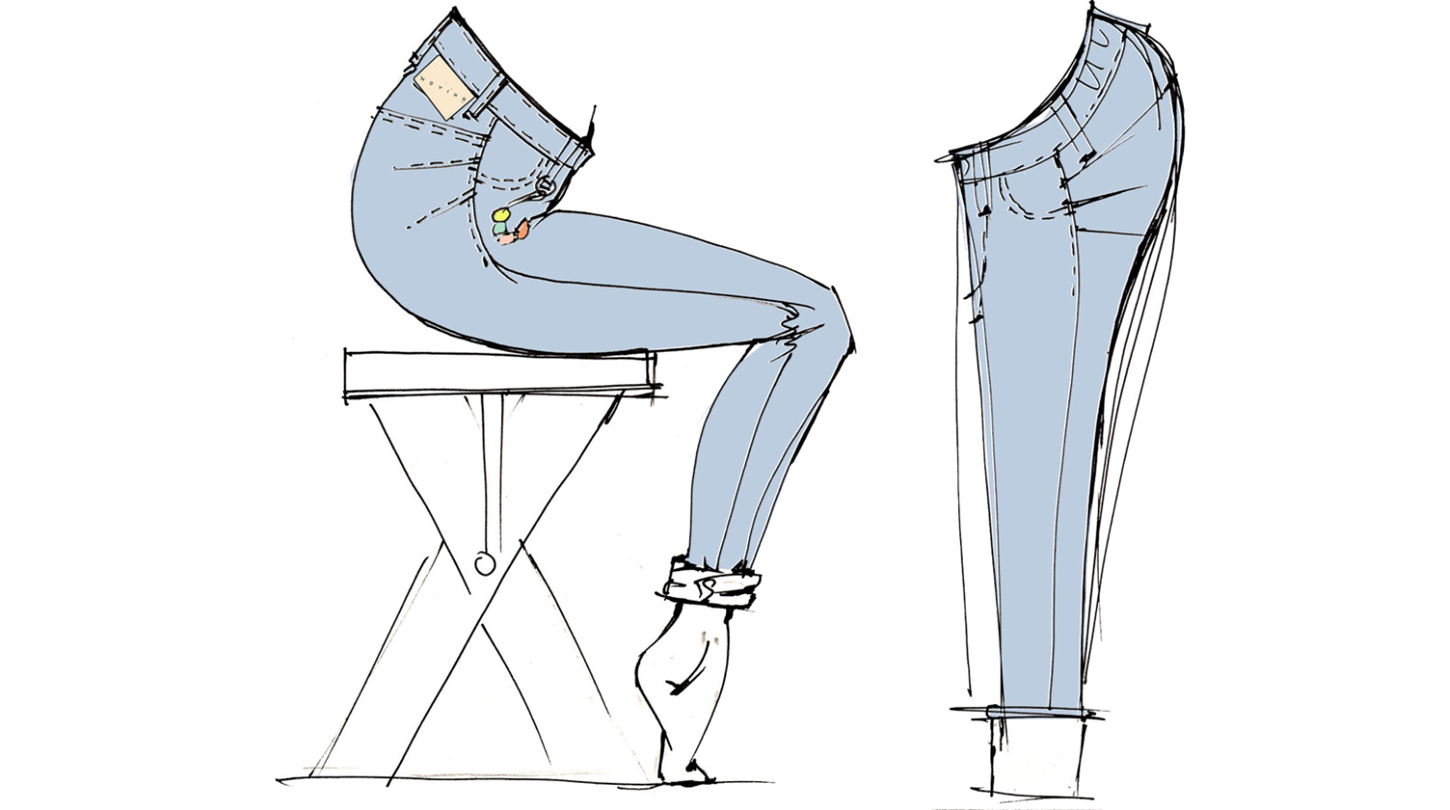 The project
The idea behind the project is to help to improve the social integration of people with disabilities through fashion. The way that we are exploring it, is through inclusive design.
Inclusive means, when the product is designed in a way that is useful to anybody, including the disabled community. This is one step further than adaptive, which means to adjust one product to one need. An inclusive garment has inclusivity built into it from the very beginning of the design process.
Everyone would like to be able to dress the way they like, feel comfortable and to express themselves through personal style and perhaps even be noticed more. This is one reason why clothes and fashion are important. There is a symbolic meaning of the clothes we wear and the physical experience of wearing them. Dressing in a purely functional way all the time would be frankly, boring, for yourself and for others. The clothes we wear can enhance our self-expression and can be a powerful statement for us and the world around us.
Storytelling
THE IDEA:
Iam Rut Turró from Barcelona, Spain. A social entrepreneur working on Fashion and Inclusion. I start my journey with disability in 1999 in India.
I did contact Darja Malesic from Slovenia, a senior expert designer and consultant to transform my research on inclusive garments into fashionable ones.
We had several talks and video conferences, understanding the problem people with disabilities is facing. Darja never thought about this market before and straight away she became very sensitive to this issue. We had a great matching.
Me, Rut, had the experience to develop a clothing brand specific for being seated, focus for all wheelchair users and people is permanent seated. It did not work well. I understood disabled people wanted to choose from the traditional brands instead of doing a specific brand. We all want to be in, feeling part of every season and trend. My company change completely the focus, develop products, and sell them to brands, to increase their inclusivity. But it was not enough, A consultancy service was needed, I develop a Method to implement inclusion into brands. We present it in some Spanish brand but the moment it was not right.
THE BIRTH OF THE PROJECT:
With Darja, we present to Worth a small capsule collection based on disability needs, showing the basic standards clothes should have to be accessible and useful for people with disabilities. Worth feedback ask as how are we going to establish the standards with 2 icon pieces of clothes.
Mmmm, good question! This is the moment, Darja came with the idea to develop a Guide to teach designer and brands on Inclusive fashion. She said to me, Rut, the same as me never thought about these problems with clothing for disabled people, there so many designers they never even think about it. Uauuu Darja, I think it's a great idea, even better than develop a small capsule collection.
Every- Body book, is the result of this partnership programme.
It aim to empower disabled people, include them in the fashion system, and teach designers how to develop inclusive fashion, without the need to develop specific line (adaptive).
The societal problem is than disability is out of fashion, even if they need to dress too. For Designers and Brands is a forgot and unknown market. Today Diversity and Inclusive design in on vogue, and after Covid 19 crisis, social issues will come stronger.
THE CREATIVE PROCESS:
We start with an index with basic topics, the standards, Splitting in Tops, Bottoms and Outwear, also splitting the garment Patterns, Manufactures ( seams, materials).
It was not clear enough and we have to repeat some concepts, as closing systems, we found on the 3 categories, and the solution we offer it did not change this much.
So we had to rethink the Index, go through challenges instead of garments. We end up with 5 challenges, Dressing, Fasten, Body Shapes, Fabrics, Decoration+ details.
Another important detail were the images used to show, to have the rights of the Cover magazine, the person show in this cover magazine or picture. We solve it changing the solutions into design illustration and using some bank images, free of licence.
We still have some Important images, we hope to have the right to publish.
Last issue, is how the book is going to be launch, by doing auto-edition or going through a publisher. Both have pros and cons. A publisher it seems the best option at this point. It will save us a lot of time on marketing and distribution, layout the 3 versions, print and digital book, and we can concentrate on the consultancy service, contacting brands to develop their inclusive collection.
THE COLLABORATION:
Definitely the best benefit is this book result. Without Darja idea to develop a guide, using all my previous research will not be possible. Her knowledge on fashion, trends and brands, it helps to develop and make a power image of disability.
I bring the technical part and Darja the artistic one, making the product more  attractive. Without this collaboration the future results we expect, adding inclusion into designers and brands will not be possible.
THE FUTURE:
First of all we have to finish the book. We develop a sample, non comercial. We define the structure, contents and the fashion solutions to the challenges.
We need to finish all illustrations, replace the photos we do not own the rights to publish, finish the text review, and find a good publisher. Contact and close an agreement with the publisher. Later, we can start selling the book, in Europe and online, in English version only.
Probably by September- October 2020, depending on how fast we agree with the publisher and the time we still need to finish the book. Right now with Covid crisis, everything seems to slow down drastically.
When the Book will be on the market, the publisher will do the commercialisation, anyway, we will promote it inside clothing designers we know, fashion schools and fashion clusters.
Our main goal is to use this book to start our consultancy service for brands on Inclusive Fashion. After this Covid crisis, probably this part will take a bit longer than what we plan.
Schools we expect the first early adopters, specially because Rut is already teaching Inclusive fashion in some universities as IED, LLotja and ID Baleares.
The support on Marketing from Worth will come when the book is on the market.
Maybe we also need support to define a new agreement between the partners, as it expires today, and it's not clear what's happens next. This part is crucial to follow the project and commercialise.
THE MESSAGE:
My best recommendation will be: If you want to go fast, go alone, if you want to arrive farther, go in group.
Definitely working in a diverse team, where there are several points of view, improve your project and product.
Projects Edition

WORTH Partnership Projects I

Project Call

2nd Call Projects

Project Sector

Textile - Fashion

Project Challenge

Social Innovation
Contact
MOVINGMOOD is a creative company specialising in fashion and disability. They design and research products and services that improve the life quality of people with disabilities. Rut Turró is the founder of Movingmood. She has 19 years' experience in Fashion and Disability fields, working in India, Mexico and Spain and was responsible for all the research in fashion, accessibility and functionality developing the initial samples of trousers, jumpers and zip pullers.
Name

Website

Postal address

Social media
DARJA MALESIC is a highly experienced Fashion Designer and Consultant covering a wide variety of products like Womenswear, Denim, Kidswear, Sportswear, Accessories, Watches and Artwork. Darja has more than 20 years' experience in the fashion industry, working for luxury houses such as Dolce & Gabbana (5 years), John Richmond (4 years) and others. She is also a highly experienced Design Consultant with a recognised background working in the apparel and fashion industry. Darja Malesic is a design professional with a master's degree in Fashion Womenswear from The Royal College of Art, UK.
Name

Website

Postal address

Social media