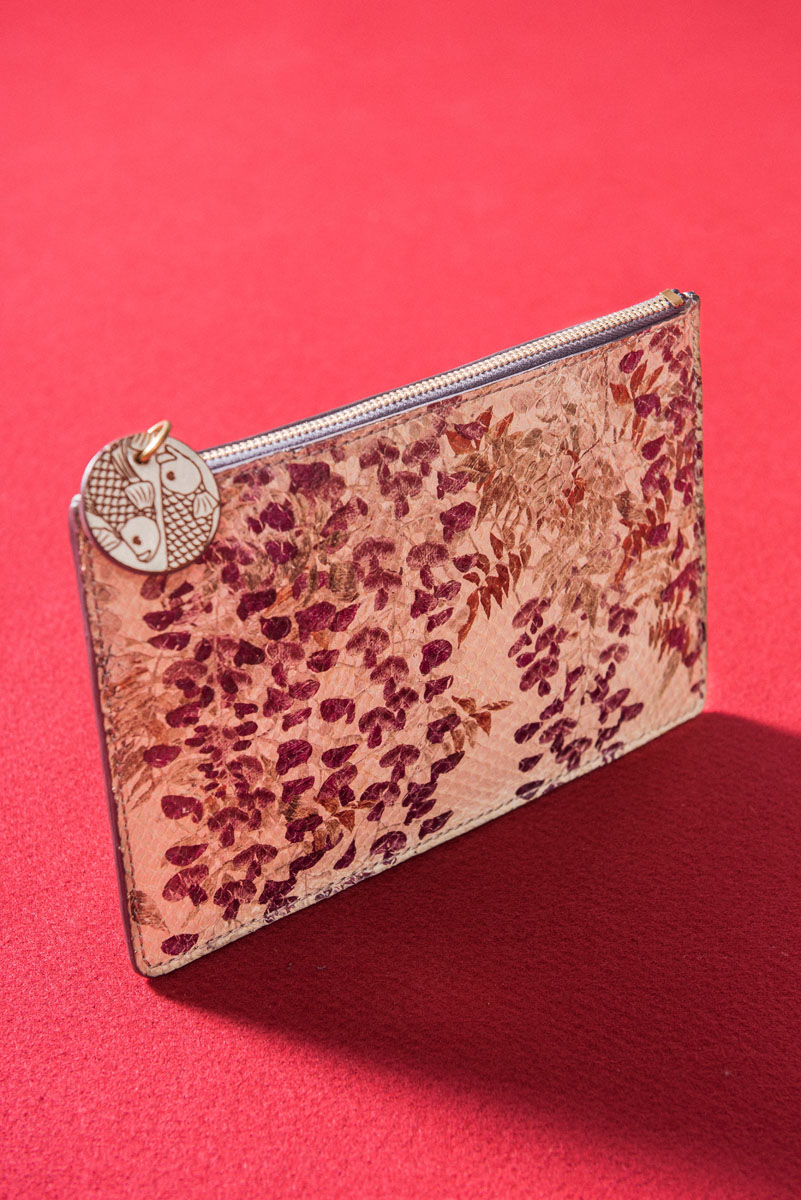 The project
A FISH SKIN CLUTCH COLLECTION USING OCEAN FOOD WASTE WHILE PRESERVING THE PLANNET'S NATURAL RESOURCES
THE CHALLENGE
The project aims to introduce concepts such as the sustainability and craft innovation of the fish leather in the luxury industry with the final aim of substituting the luxury leather- based products while preserving ancient and innovative techniques. The technological challenge was to pilot and develop new technologies, based on artwork development for fish leather finishes together with a high component of design (inspired by Asian cultures), promoting development of future manufactured fish skin leather new products for the luxury industry.
The object of the project is the preservation and dissemination of cultural heritage connected with fish skin. The collaboration and cooperation among the Icelandic tannery and fashion designer, is a fine example of an innovative way of linking the preservation of traditional knowledge and culture and the development of culturally relevant fashion items taking in consideration the sustainable limits of the planet's natural resources
THE SOLUTION
Making leather from fish skin is an ancient craft historically used by many Arctic coastal cultures.The Fishskinlab clutch collection combines the technological progress of Atlantic Leather, an Icelandic tannery leading in manufacturing leather from fish skin with the designs of Elisa Palomino, a recognised international fashion designer. Fishskinlab presents a clutch collection inspired by the principles of sustainability.
The inspiration:
Laser cut salmon skin inspired by Chinese paper cut art. A visual art of Chinese handicrafts originated from the 6th century used in sacred rituals.
Gold Laminated salmon skin and engraved through laser cut to recreate lacquerware Japanese art. A Japanese craft from 5000 BCE. Inspired by red laquer Sake cup decorated with maki-e design of a carp from Edo Period at Ca Pessaro, Museum of Oriental Art Venice.
Digital printed Pagoda motif on salmon skin inspired by a Chinese circular carved red lacquer box decorated with a pagoda in a garden under a tree from the 19th century.
Digital printed Wisteria motif on salmon skin inspired by a Japanese silk kimono embroidered with wisteria blossoms, c. 1900; made in Japan, prob. retailed in France.
http://www.fishskinlab.com/41/projects/worth-partnership
NOW…
Continuation of the WORTH Project research through an EU grant: The partners will continue the research starting with WORTH Project through FishSkin a new project, funded by the European Commission Horizon 2020 research and innovation initiative under the Marie Sklodowska Curie agreement FishSkin. Kick-off meeting of the project executed in February 2019.
Projects Edition

WORTH Partnership Projects I

Project Call

1st Call Projects

Project Sector

Leather - Fur

Project Challenge

Reinventing craftsmanship
Contact