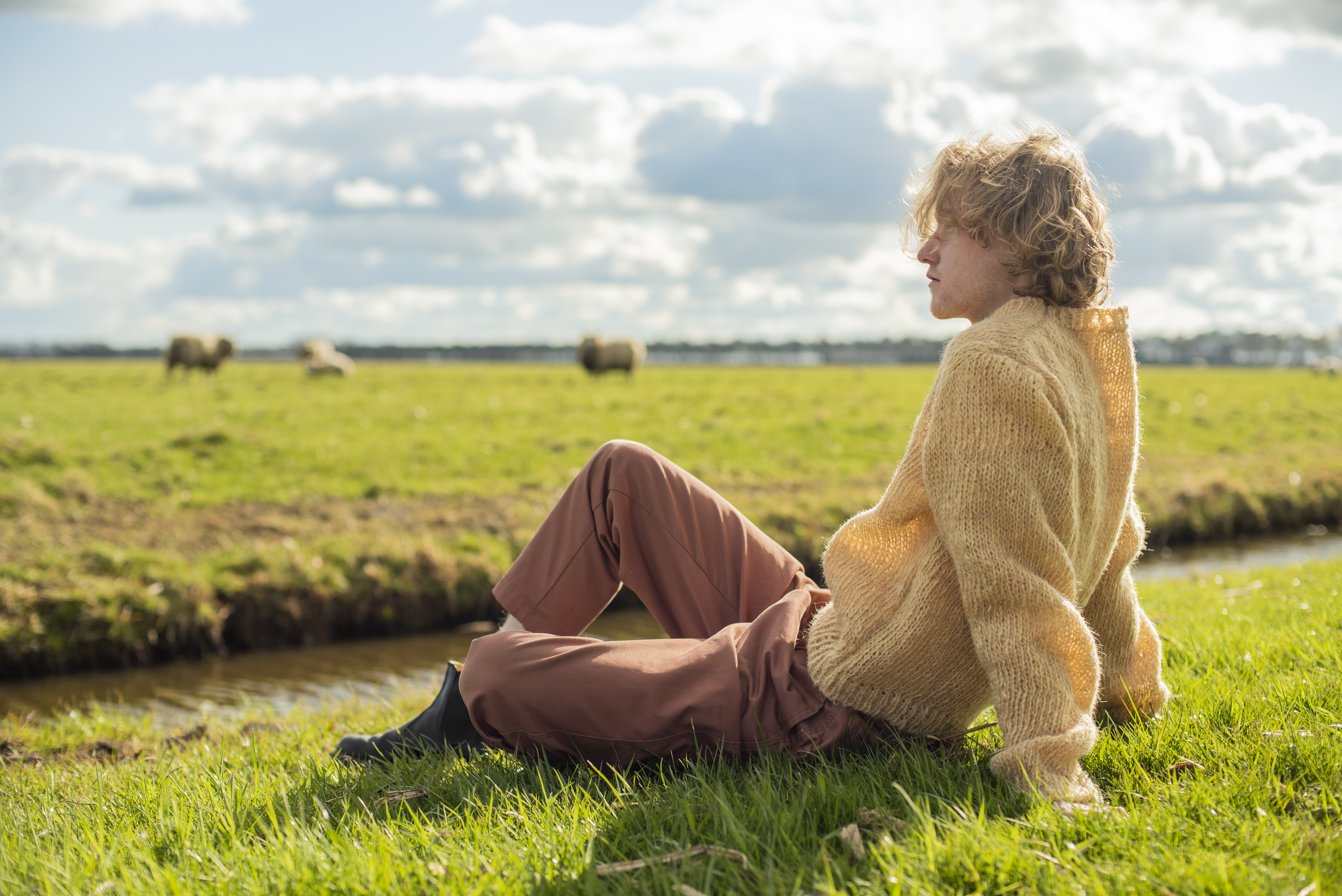 The message of the project 
"Human Weaves" is an experimental collaboration between Human Material Loop and Mona Reich to show the different possibilities of human hair textiles. By exploring different weaving patterns and techniques, they aim to unleash the potential of reinventing how they think of materials and break down the hesitance to use waste human hair as a raw material. 
The project was founded to bring people together, to be inclusive, and to give value to all their waste. From one human to another.
The idea behind the project
"Human Material Loop" believes collaboration is the future. They have teamed up with a young German weaving designer, Mona Reich for the Worth Project to show the potential of human hair as a material in the textile industry. With full creative freedom, Mona will be able to experiment, stretch the boundaries of textile weaving and show the potential of how the tradition of craftsmanship can be intertwined with new materials and how the future of textile developments can be rethought.
Many of us are already aware of how polluting the textile industry is, and its rising detrimental impact on the environment requires drastic changes. Major emissions within the sector are caused by raw material cultivation and transport. In order to reduce these emissions, companies must employ local waste materials. 
Visiting a hair salon and seeing all the hair whisked to the dumpster on a regular basis sparked the idea behind the "Human Material Loop" project. After all, human hair has the same keratin protein fibre as wool, and it ends up in landfills all over the world. "Human Material Loop" was founded with a mission to create a true textile revolution and to show that people are not above but part of the ecosystem. The research began by treating human hair as a raw material, investigating its capabilities and how they could integrate this fibre into the textile industry. The objective of the project is to reduce waste in their communities while also boosting the local economy through local processing and production of high-performance textiles with a carbon footprint close to zero.
The items that are currently hanging in their wardrobes are the most sustainable. How can fashion and textile designers emerge and allow their creative freedom to flow when they are aware that the material they are working with has a significant negative environmental impact? "Human Material Loop" aspires to empower these designers' creative processes by giving them a material that has no negative environmental impact. They created a method that allows them to spin discarded human hair into yarn and create textiles for a variety of industries and applications.
What next?
In Europe alone, 72 million kg of human hair waste is generated every year. That is the weight of 7 Eiffel Towers. This amount ends up in their landfills. By enabling hair salons to operate on a zero-waste basis, they contribute to the push for a zero-waste society. With their entire closed-loop production system, they degrade no soil, use no pesticides, pollute no water, and they process a 100% biodegradable material with zero negative impact on the environment. 
"Human Materials Loop" promotes prosperity while protecting the planet. As a company, they steer their business activities to contribute to several SDGs, effectively using business as a force for good.
SDG 8 | Promote sustained, inclusive and sustainable economic growth, full and productive employment and decent work for all. Their local production pushes for ethical production and labour conditions where the environmental impacts would directly affect the consumers. Therefore, our eyes cannot be closed on overseas factory pollutants and working conditions.
SDG 9 | Build resilient infrastructure, promote inclusive and sustainable industrialization and foster innovation. They are introducing a new material to the textile industry, by developing an infrastructure for waste utilisation that will bring innovation and change to local waste management and to the textile industry that can be sustained in a long and efficient way. 
​SDG 11 | Make cities and human settlements inclusive, safe, resilient and sustainable. They are pushing for a zero waste society where value is given to all their waste. 
SDG 12 | Ensure sustainable consumption and production patterns. They are providing a sustainable product to the market with a long life of durability. 
SDG 13 | Take urgent action to combat climate change and its impacts. Small-scale local production helps to eliminate the waste of unneeded products made to adhere to overseas minimums, and reduce emissions and energy usage.
SDG 15 | Protect, restore and promote sustainable use of terrestrial ecosystems, sustainably manage forests, combat desertification, and halt and reverse land degradation and halt biodiversity loss. The integration of human hair as a material that does not degrade any soil, causes no deforestation, uses no pesticides and lowers their waste streams provides a material that can reduce the currently used harmful materials within the industry. Imagine if the global wool, cotton or synthetic fibre production would be exchanged to 20% to human hair, how much more land could be used to replant forests or cultivate food? 
SDG 17 | Strengthen the means of implementation and revitalise the global partnership for sustainable development. Their goal is to build a global system together with partners who have been dominant in the market for decades and provide them with a material with a carbon footprint close to zero. 
Enabling the beauty industry to operate on a zero-waste basis, where every individual can contribute to a more sustainable planet, they provide a system where everybody is welcome. Cut-off hair does not contain the nuclear DNA that is needed to identify an individual, and since male and female hair are identical in structure, from the collected material they can't even tell any gender. "Human Weaves" aims to engage more and more designers and makers in the future from different cultural backgrounds to diversify the use of materials and their applications.
Projects Edition

WORTH Partnership Projects II

Project Call

1st Call Projects

Project Sector

Textile - Fashion
Stakeholders
Coordinators
Human Material Loop
Address