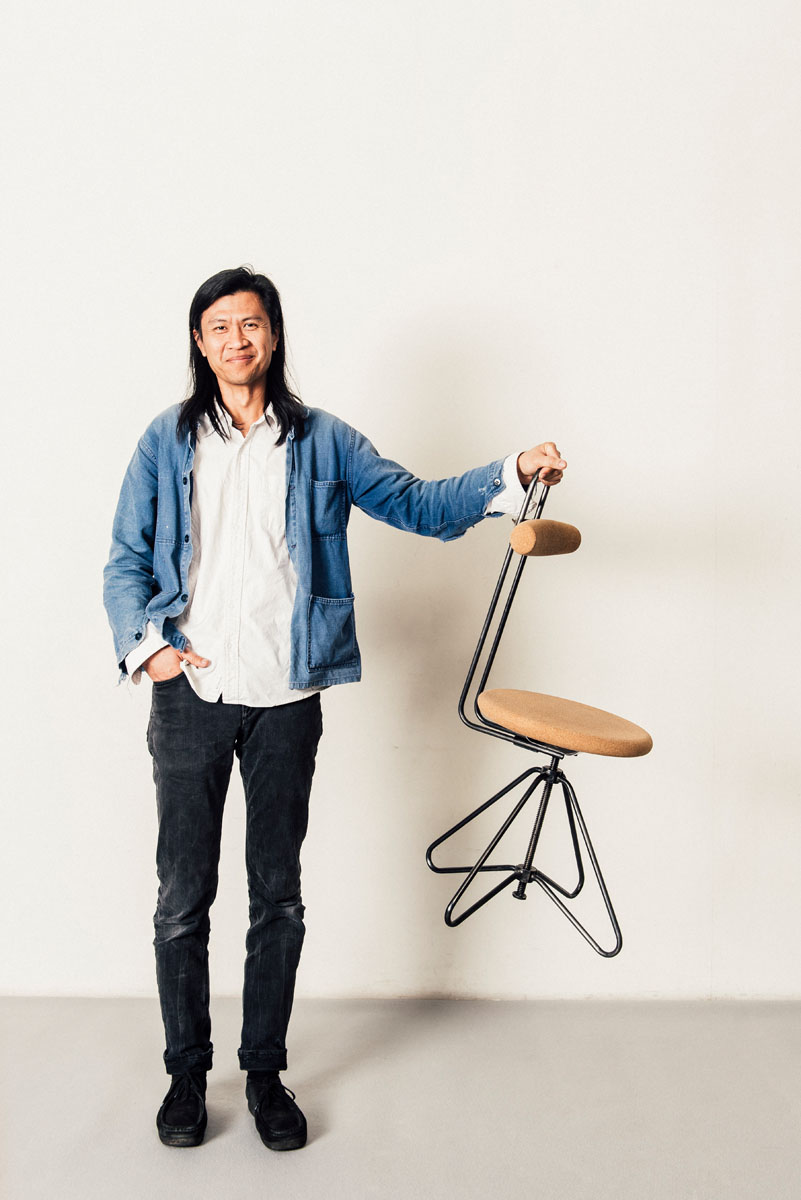 The project
MARGARETE: CORK TASK CHAIR – NAMED AFTER MARGERETE KLÖBER, THIS TASK CHAIR IS A POST CENTURY MODERN HOMAGE TO THE DESIGNER OF THE ORIGINAL 'ERGONOMIC' CHAIR
THE CHALLENGE
To design and develop a versatile task chair, that can be used in home office and/or co-working environments that addresses the aesthetic, ergonomic and economic requirements of this particular market segment.
THE SOLUTION
The obtained outcome is a minimalist, sustainable, easily transportable ergonomic cork chair.
The obtention of this ergonomic chair is based on 3 main criteria:
Ergonomics: the idea was to research on the physical problems associated with our increasingly sedentary work lifestyles and provide solutions that allow users to enjoy and flourish in their environments.
Sustainability: the use of cork as primary material has been chosen for its environmental credentials. No trees are cut down in harvesting of cork. It is a recyclable naturally degenerative material.
Design for Disassembly (DfD):
The philosophy of DfD is integral so each of the component parts can be dismounted for recycling and/ or manufacture.
The inspiration is sourced from the sacral-lower thoracic support concept: which affirms that by focusing and maintaining gentle pressure at particular points (the Sacral Support and the Lower Thoracic Support) postulates that this will improve the sitters posture and optimises for better diaphragmatic breathing.
NOW…
Partners are working in the development of the whole concept developing other elements with the same phylosophy such as a table, a support for computer…in order to start commercialising the furniture collection with a unique concept.
At the same time, the product is being tested by physiotherapists to validate the concept.
Also they are working on the moulds in order to scale-up the production.
Projects Edition

WORTH Partnership Projects I

Project Call

1st Call Projects

Project Sector

Furniture - Home Decoration

Project Challenge

High-added value solutions
Contact
Berlin based product/furniture designer. He offers bespoke design, product development and visualization services for private clients, interior designers, design agencies, architects and start-ups. The activities of his studio include helping clients with creative and technical consulting, full CAD development and detailing, 3D modelling, computer rendering and visualisation of concepts, as well as the prototyping of physical concepts.
Name

Website

Postal address
They work primarily with cork. Cork is a material that can be worked directly from the tree or crushed and agglomerated in various ways with CNC cutting, moulding.
Name

Website

Postal address
Manufacture high quality bespoke metalwork products using traditional forging, fabrication and welding methods. They are also able to source custom-cut glass panels for modern style stainless steel balustrades and laser-cut metal parts for precise detail.
Name

Website

Postal address