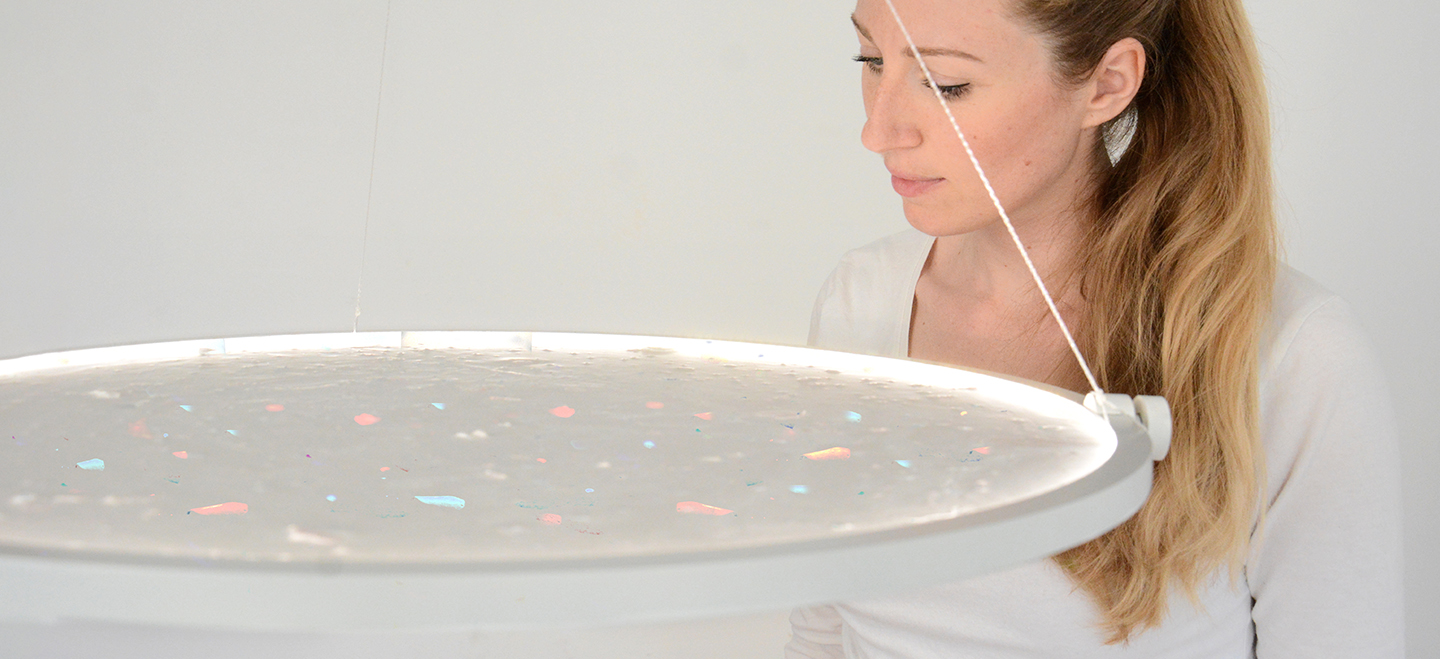 The project
Moseanic, a new sustainable terrazzo material.
THE CHALLENGE
There is a need to produce new sustainable materials, materials that use wastes and particulary the waste that ends up in oceans, offering a wide range of design options that initiate collaboration between designers, crafters, material developers and environmental groups. Moseanic is a new material concept combining airdry porcelain, cellulose fibre and ocean plastic, that creates an eco-sustainable-terrazzo that the partnership would like to use as a base material for its products.
THE SOLUTION
Moseanic combines positive characteristics (it is strong, solid, translucent and natural). So much for the practical side, but there is also an emotional aspect: that the ocean plastic is visible, making the consumer aware of its reuse and providing a positive experience. The team is planning to design products, like lamps and explore the possibilities of using Moseanic as raw material.
Storytelling
THE IDEA:
The idea of Moseanic, a new sustainable material was born in the summer of 2019 on the island of Crete. While enjoying her holidays, Lučka has discovered that every "paradise like" remote cretan beach she has visited, is polluted with micro and macro plastic. She has been a part of a team organising clean up actions which for sure are important and necessary, but she decided she wants to approach the problem also by developing a design driven solution.
THE BIRTH OF THE PROJECT:
Through Worth platform she met Agi, a hungarian product designer who joined the Moseanic team and enriched it with her design expertise, open mindness and great ideas. That is how Moseanic Partnership was born.
Since then we have been working on our common project which tackles many challenges. 
The first one is developing a methodology for collecting waste ocean macro plastics found on the beaches, hidden in the sand, between rocks, etc, working with environmental NGOs and local communities.
The second problem is finding a way to reuse the plastic that has been damaged by the sea, sun and salt. 
The third is a logical continuation of the previous two. Since we are developing a material which is translucent, decorative and environment friendly, we decided to design an object that would show the properties of the material at its best light. Since we are both very sensitive about the lighting in our interiors, we decided to design a lamp which is not only decorative and eye-catching but also provides high quality light with positive effect at people's wellbeing and overall atmosphere in the indoors life.
THE CREATIVE PROCESS:
We have discovered that we are highly creative when we work together in the same space. That is when the biggest breakthroughs happened in our partnership. Luckily we come from neighbouring countries (Slovenia and Hungary) so the distance between us was not too big and we managed to meet 3 times and work together on site. Our process consists of sketching, trials, building models, mixing materials, discussing with experts, …
THE COLLABORATION:
Since January 2020 we have been regularly meeting online and offline, updating each other with our discoveries. 
Lučka was in charge of developing the material and working closely with partners in the field of lighting, technology and prototyping, while Agi was preparing the design ideas, improvements, documentation and visual materials.
THE FUTURE:
In the future months we are planning to proceed with the development of the lamp, technology and the material, we already have the third version of prototype ready and we are developing and improving it. 
Our goal is to deepen our collaboration with the environmental organisations and provide them with a solution for the challenge of what to do with the materials they collect at the clean up events. 
At the same time we strive to create a sustainable product with a transparent production line that will provide high quality light to the end user. We are also planning to grow a community in which we would share our knowledge about the importance and impact that light has on our wellbeing and health.
THE MESSAGE:
We both strongly believe that there is a great power and potential in teamwork and connecting with other professionals with diverse backgrounds and vision. We encourage everybody that has an opportunity to join a team or future Worth Partnership Projects, to do it, it really is WORTH it!
Projects Edition

WORTH Partnership Projects I

Project Call

3rd Call Projects

Project Sector

Furniture - Home Decoration

Project Challenge

Circular Economy
Contact
A product designer, who leads and takes part in a wide range of design processes: small objects, new types of packaging, outdoor elements for open spaces, founded a start-up for modular furniture for Millenials living in rented accommodation.
Name

Postal address

Social media