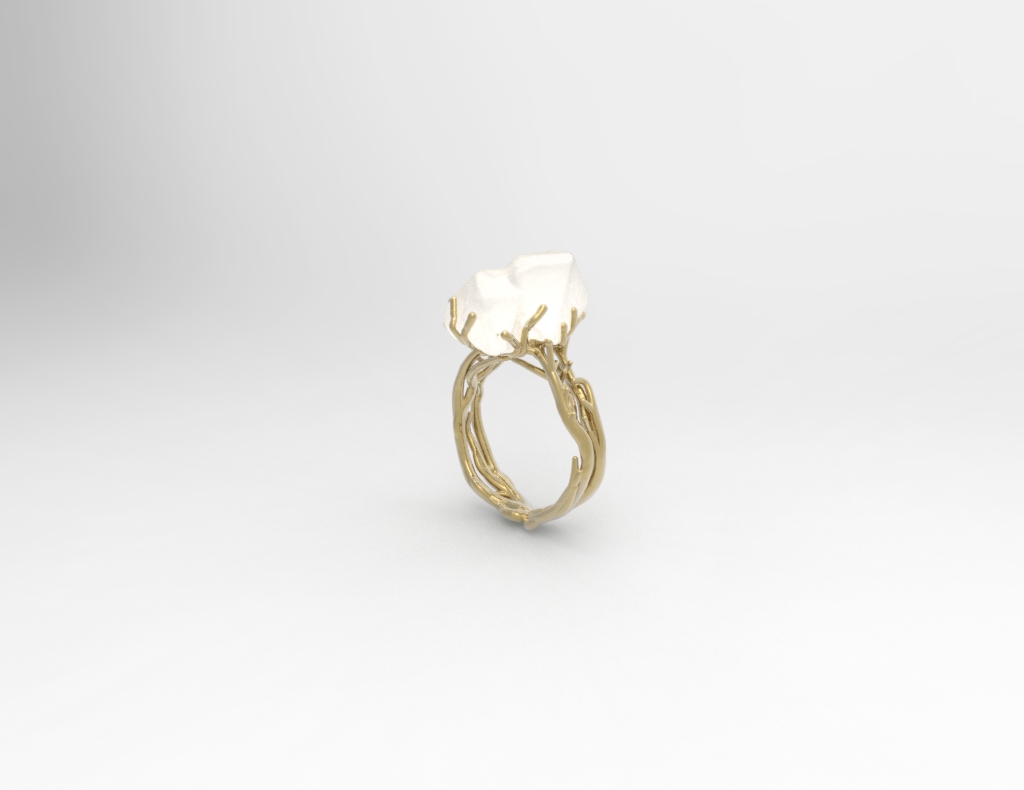 The message of the project
Samorast is a project that aims to create parametrically created jewellery growing around real-world objects—rough stones that are completely integrated into the design. It takes a lot of time and effort to handcraft a naturally formed ring out of rough stone. So far, there has been no way to make this procedure easier when producing naturally appearing jewellery with rough stones. Every rough stone is unique, and to set it attractively, the setting for the stone must be developed specifically for it. Samorast 3D scans the raw stone, and then the ring design is built automatically around it. After that, the ring is printed and cast, and the real stone is placed. This allows the design to follow natural stone cut lines, resulting in incredibly unique sculptures in a matter of seconds.
The idea behind the project
Monika was making an engagement ring for a friend when the idea inspired her. He requested a ring with a natural appearance and a rough stone. The entire procedure took a long time, and she was thinking that it could be done quicker by using technologies like 3D printing and parametric design.
How does the project contribute to the New European Bauhaus Initiative?
Inclusive:
All our jewelry is made to order by choosing your stone and then designing the piece, choosing parameters such as ring size, number of points, thicknesses, etc. Everybody can create their own piece of jewellery for a loved one. We are democratizing creating the pieces with rough stones, as they take an incomparably shorter time to make and customers can see the final design before a custom piece is ordered.
Beautiful: 
The main objective of creating jewelry is to adorn the body, and our pieces try to do just that by bringing as simple or as intricate jewelry as you want.
Sustainable: 
Our studio is trying to be as sustainable as possible. We work only with recycled metals and ethically sourced stones. Our jewelry is made to order, so we don't hold stock.
Projects Edition

WORTH Partnership Projects II

Project Call

1st Call Projects

Project Sector

Jewellery

Project Challenge

New European Bauhaus
Stakeholders
Coordinators