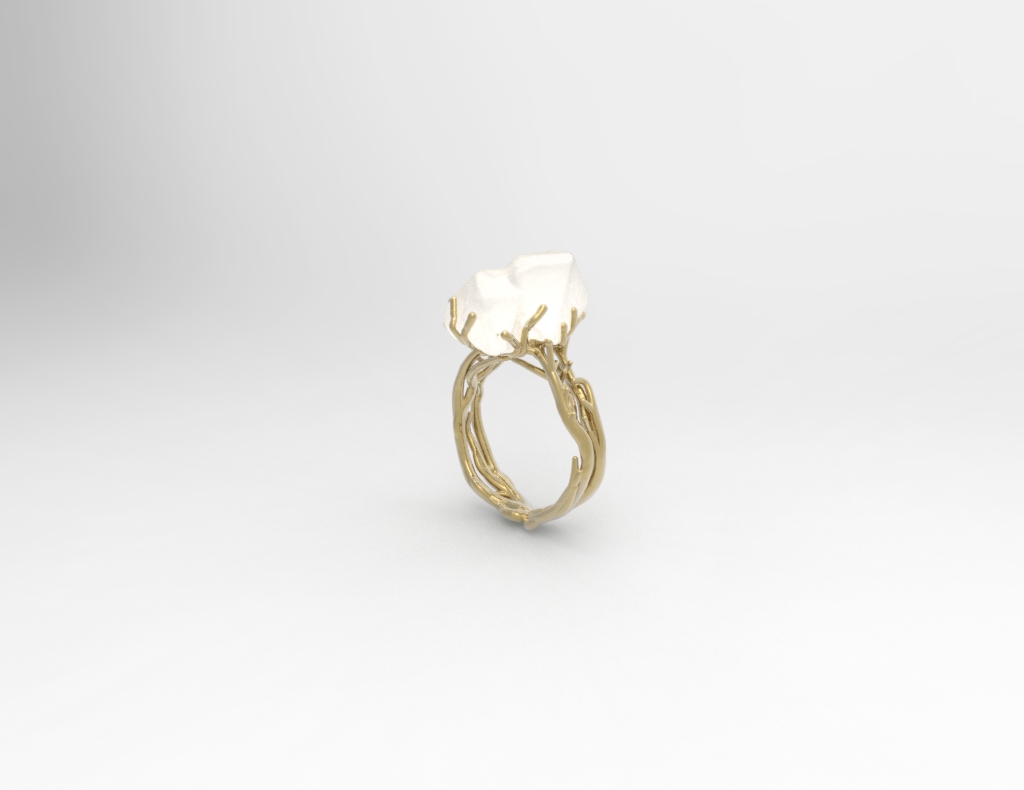 The message of the project
Samorast is a project that aims to create parametrically created jewellery "grown" on real-world objects—rough stones that are completely integrated into the design. It takes a lot of time and effort to handcraft a naturally formed ring out of unpolished stone. So far, there has been no way to make this procedure easier when producing naturally appearing jewellery with rough stones. Every rough stone is unique, and to set it attractively, the setting for the stone must be developed specifically for it. Samorast 3D scans the raw stone, and then the ring design is built automatically around it. After that, the ring is printed and cast, and the real stone is placed. This allows the design to follow natural stone cut lines, resulting in incredibly unique sculptures in a matter of seconds.
Monika is in charge of the project's artistic aspects. She is working on the generative design as well as casting, stone placement, and finishing. Precision wax is in charge of 3D scanning stones as well as 3D printing wax sculptures.
The idea behind the project
Monika was making an engagement ring for a friend when the idea inspired her. He requested a ring with a natural appearance and a rough stone. The entire procedure took a long time, and she was thinking that it could be done quicker by using technologies like 3D printing and parametric design.
What next?
Natural growth inspired the project partners, who wanted to incorporate it into their products. They intend to go much farther and create one-of-a-kind artworks that are difficult to create by hand. The items' beauty is crucial since the primary function of jewellery is to complement the wearer's body.
The concept makes use of recyclable metal and stones that have been mined and processed sustainably. The partners prefer rough stones over cut stones, which have a higher carbon footprint. Approximately two-thirds of the stones are lost during the time and energy-intensive cutting procedure. Their items will be created to order. To avoid defects in jewellery, they must select stones depending on their properties. To eliminate deadstock, most goods will be cast after order, which will be made possible by the use of renderings and virtual models on their selling channel. Because the goods will contain aesthetic components, they will be worn and valued for a long time, resulting in long-term therapy.
Since the products were created with an understanding of the materials and techniques employed, they will be wearable and safe for everyday use. The project partners want to keep costs low, but they also aim to educate consumers about the actual costs of making jewellery.
Projects Edition

WORTH Partnership Projects II

Project Call

1st Call Projects

Project Sector

Jewellery

Project Challenge

Reinventing craftsmanship
Stakeholders
Coordinators