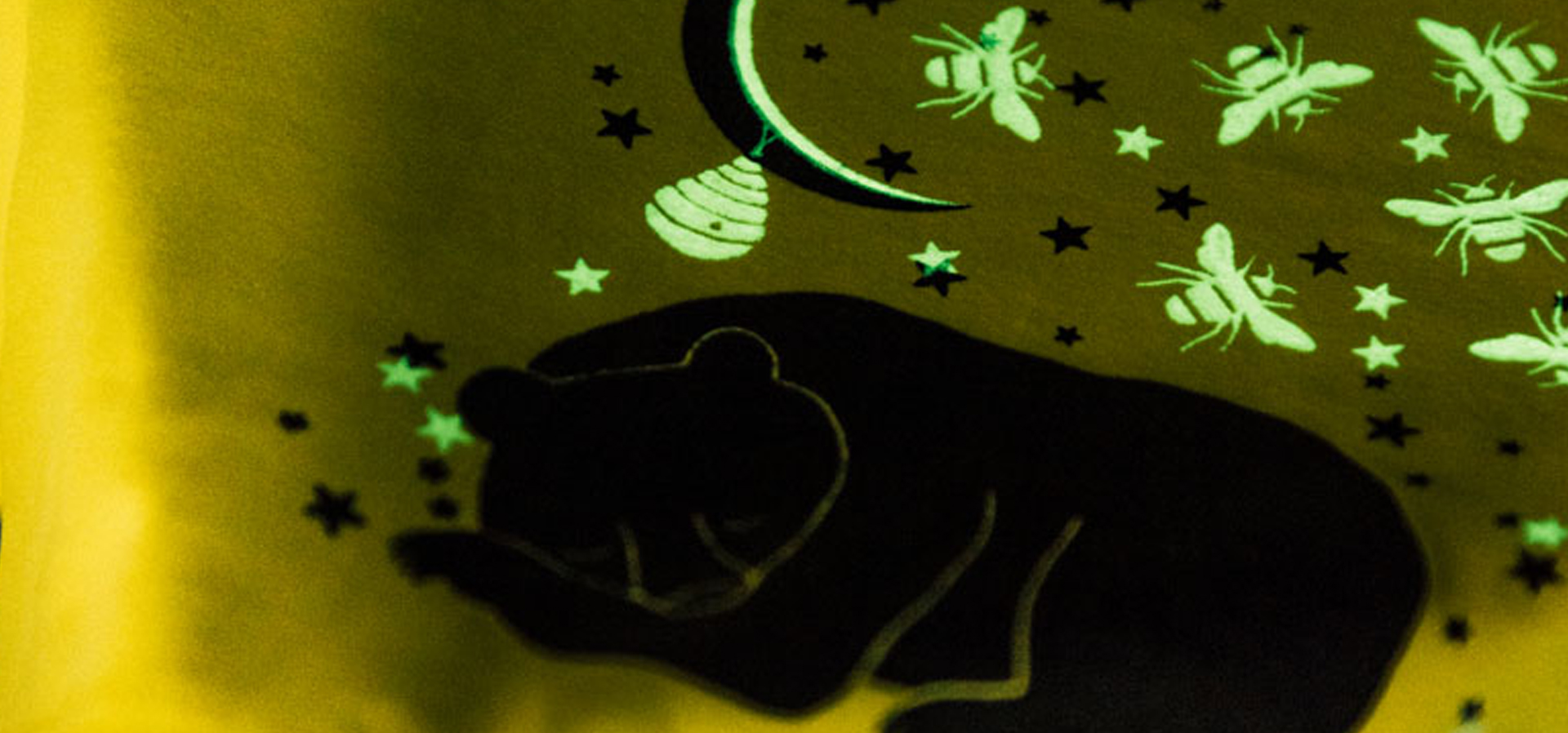 The project
SPELLBOUND: CREATES MAGICALLY ADAPTING CLOTHING FOR HAPPY CHILDREN BY SAVING THE ENVIRONMENT
THE CHALLENGE
To design and create a children's clothing brand which invites the wearers to engage in dynamic storytelling, focusing on holistic sustainability, with the use of colour-changing illustrations.
THE SOLUTION
The partnership has developed a collection of children clothes with the following features:
clothing samples made of factory left-over materials with
custom made illustrations
printed on the samples with UV sensitive and Glow-in the-dark pigments.
They have produced the new collection of magically adapting clothing for happy children sampled, with 6 garments with the functional printing on them finished. The set consists of 4 UV sensitive stories and 2 Glow-in-the-dark stories:
Bear and bees
Tickling leaves
Rabbit and flowers
Stork and frogs
The project stories go on in different medium: when the user buys a T-shirt, it comes together with a card that carries a question, for example "The stork is watching the fish swim in the lake. Who else lives by the water?" – the question corresponds to the story on the clothing item as well. as the frogs appear in sunlight, this can be one answer… but maybe there are many more answers. and the user is invited to submit their particular answer via e-mail. As a response they receive another card for another ítem. Cards can also be bought.
The stories evolve around holistic sustainability. They create empathy with the animals and nature as great part of ourselves. The clothing invite to have a deeper relationship with it though playful colour change and interaction.
NOW…
You can buy the collection benefiting of a pre-order discount in:
www.spellbound.ee
Projects Edition

WORTH Partnership Projects I

Project Call

1st Call Projects

Project Sector

Textile - Fashion

Project Challenge

Reinventing craftsmanship
Contact
Utilises the smart textile design research of Kristi Kuusk"Crafting Sustainable Smart Textile Services (2016) in the practice. The company offers consulting to industry partners, and validates research hypothesis in the commercial setting.
Name

Website

Postal address
One of the last remaining garment producers situated in Parnu, Estonia. The company offers product development, pattern making, grading, sampling, and small-large scale manufacturing of textile products to the international and local clients.
Name

Website

Postal address
Illustrator and storyteller with various high level children's book publications, newspaper illustrations, and others. She is fascinated by children search-books and she continuously explores new ways for visual storytelling. Kerstin Zabransky stimulates children with her creative illustrations to look closer into detail, and use their vivid imagination.
Name

Postal address