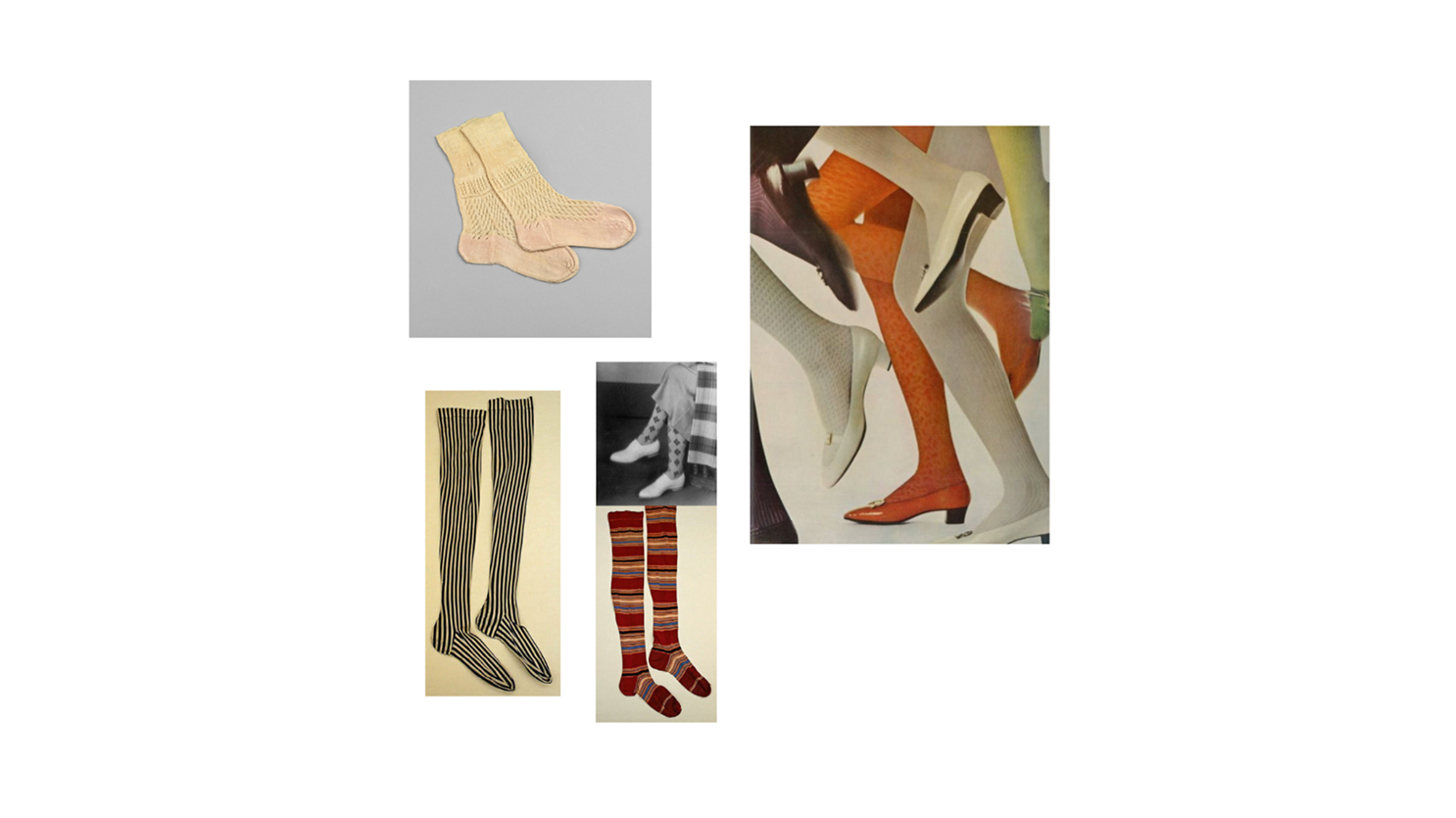 The project
Socks are an everyday product that usually don't receive much attention from consumers or the companies who produce them. They are something that we have been conditioned into buying as throwaway items. They are an afterthought, yet we use them almost every day. Our aim is to update the simple item of socks by creating a sustainable, ethical and beautifully crafted product.
Storytelling
THE IDEA:
Me, Carolina Forss, and my colleague, Anni Raasmaja, had just graduated from our respective art university programs in London and Helsinki. We were at the time both living in Paris at an artist residency called Cité Internationale des Arts. The residency is in the heart of the city, in Marais, and during the art residency we walked around Paris and talked about the future. Doing high-quality designer socks were part of the discussion already from the start. This item combines many aspects that we found both exciting, interesting, and important, and in addition, there is room for improvement for socks; both in quality and design. Socks play an essential part in how we look and how we feel, and this became even clearer on our long walks in Paris.
THE BIRTH OF THE PROJECT:
There are too many low quality, unsustainable and mass-produced socks on the market. We want to rethink the entire category of socks by bringing high-end fashion knowledge and craftsmanship into the world of socks. Through choices in fiber, knit structure, machines and product design socks can be manufactured more sustainably and as a long-term quality item. We aim for a customer segment that wants to be different and highlight personal style, convey a fashion forward image but at the same time support sustainable lifestyle choices (easy care and long-lasting). For us, the biggest challenge is finding the perfect yarn and fiber but also a manufacturer that is specialized in circular knitting with a premium quality.
THE CREATIVE PROCESS:
We stand out from other sock companies by thinking creatively about the product and having a fashion forward approach. We apply methods to the design process from both the fashion and textile industry but also from the startup world. The design process is highly connected to the knitting machines, for example what kind of structures and styles can be done. For us it has been tricky to find the right yarn since we aim at a meticulous design and a quality with the right feel. If the yarn is not correct for the machines the needles will break or then the outcome is just uncomfortable (either too loose or too stiff).
THE COLLABORATION:
Throughout the Worth Project we have collaborated with a Swedish sock factory called Triconor. Triconor was established in the 1960s and they are known for their medical socks.
Collaborations can be immensely fruitful and working with a cross-disciplinary team gives room for new angles, discussion and vivid brainstorming. However, our partner factory had problems with their machinery and that has affected the development of the product and project. But it has been valuable to connect with local manufacturers in the Nordics. The factory has also been kind with sharing knowledge and yarn contacts. The Worth Project has given valuable insight into working with transnational partners, but also in recognizing the importance of communication.
THE FUTURE:
Before we can produce socks in desired quality and style, we need to find a trustworthy factory. When this is done, the next step will be to manufacture a batch of socks which will be given to friends and key influencers. An online shopping experience should be also launched at the same time. In the future, we see the brand potentially expanding into hosiery and stockings, naturally produced with a similar high-quality and sustainable philosophy. The long-term goal is to continue developing sustainable sock products, and we want to see our company scale from a small independent label into a trusted sock and hosiery brand.
THE MESSAGE:
Working together with people from other fields is a great way to bring novel perspective. On an individual level it is also highly educational. A successful partnership is exciting and gives new knowledge and depth into an already existing organization. In the fashion industry it is common to work with artists that bring artistic creativity and value to a product line or a collection.
However, the importance of communication during a collaboration can is not highlighted enough: that both parties know what is expected from the partnership.
We are not yet in a stage where we have built any social media platforms or an online presence. This will be provided later.
Projects Edition

WORTH Partnership Projects I

Project Call

2nd Call Projects

Project Sector

Textile - Fashion

Project Challenge

Circular Economy
Contact
CAROLINA FORSS & ANNI RAASMAJA met at Aalto University in Finland while studying fashion and Textile. They both graduated with an MA from Central Saint Martins. They have a shared interest in textile development and searching for innovative solutions through collaborative work. Their experience comes from working in companies as different as Eckhaus Latta, Acne Studios and H&M. 
Name

Postal address
TRICONOR AB independent sock manufacturer with almost 50 years' experience, established in 1969 in Orviken, Sweden. They manufacture a wide range of underwear and socks in different materials and their expertise is in creating long-lasting and comfortable socks from short-fibre yarns. 
Name

Postal address