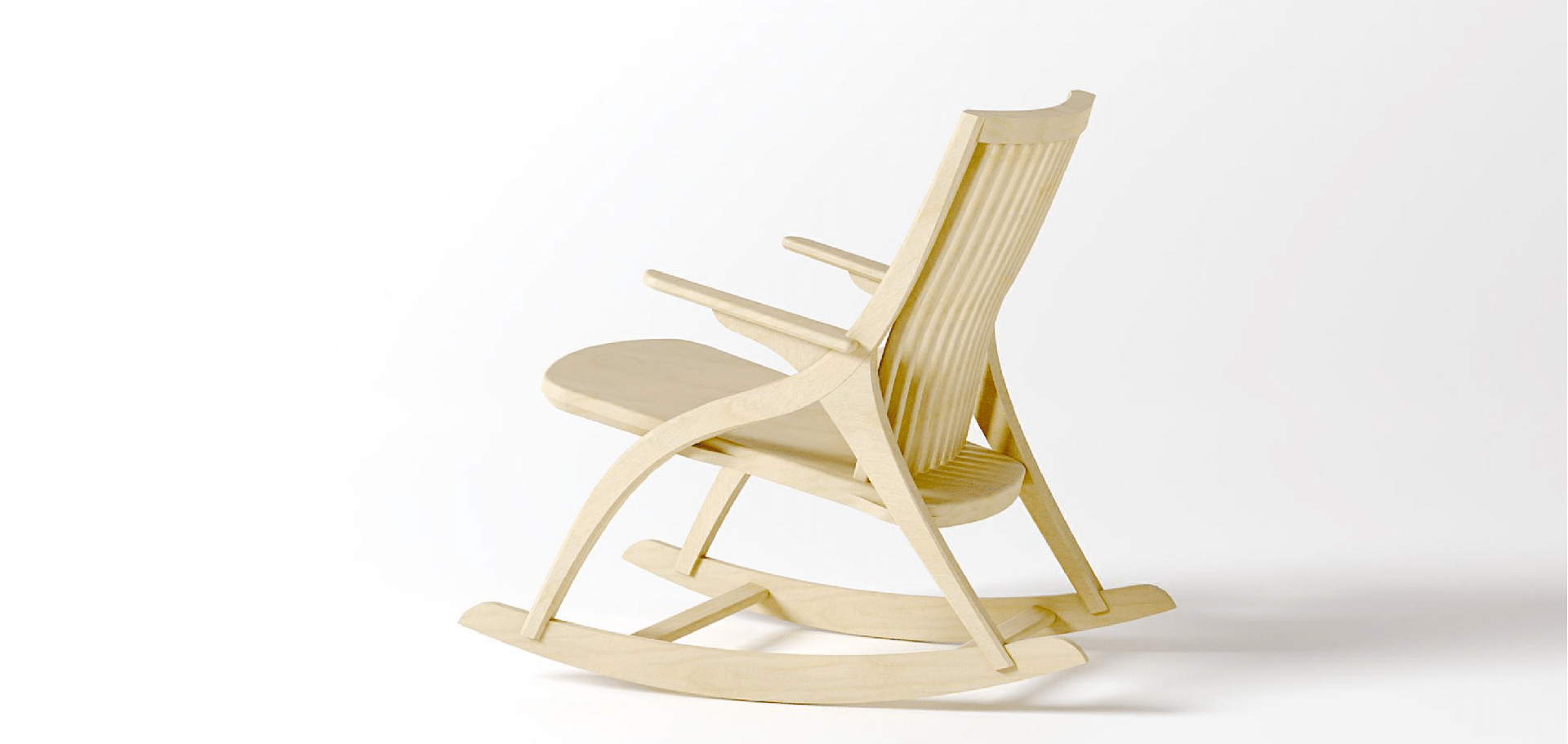 The project
A Flatpack Rocking chair with AR instruction manual.
THE CHALLENGE
Traditional 2D instruction manuals are often confusing and laborious to use, 3D visualisation in augmented reality helps the user to understand 3D dimensions the procedures involved in assembling furniture. Fundamental to the 'DIY Design' concept of the brand, is the development of the Augmented Reality assembly guide. AR is a perfect use case for the often complicated task of assembling RTA (ready-to assemble).
THE SOLUTION
The partnership wants to develop a flat-pack rocking chair, designed to be manufactured entirely using CNC (Computerised numeric control) machines, adding to the Nomade Editions brand, which is a furniture label that enables users to customise, personalise and download designs. The Project will also involve the development of an Augmented Reality instruction manual that will guide and help users to assemble the rocking chair's components into the finished product.
Storytelling
THE IDEA
The idea for this project was to develop concurrently a DIY flat-pack rocking chair design for the brand, Nomade Editions as well as an extended reality instruction manual that would augment the plans and drawings.
THE BIRTH OF THE PROJECT:
I had designed a rocking chair for my wife at around the same time that as I was developing Nomade Editions – which is a new furniture label that allows people to customise, personalise and download flat-pack designs that can be made themselves with the use of CNC machines. A big part of the brand is the DIY aspect – so creating an Augmented Reality assembly guide seemed to be a perfect use case scenario for the technology.
THE CREATIVE PROCESS:
A big part of the Nomade Editions brand is about developing flat-pack CNC designs that move away from the DIY aesthetic that defines a lot of CNC manufactured work.  So for me, part of the process was looking at classic furniture designs of the Scandinavians like Hans Wegner, and seeing if I could translate that aesthetic using new modern fabrication and construction techniques.
THE COLLABORATION:
I collaborated with French technology platform XR+ to create the Augmented reality component of the construction guide and they were able to create an online mobile browser accessed application that would help in the DIY process of making the chair.
THE FUTURE:
The idea is to continue to add more designs to the Nomade Editions collection where I hope to include more use of these advanced technologies like AR, parametric design and distributed manufacturing.
THE MESSAGE:
At Nomade Editions, we want to empower people to start making things again. We share how things are made and the thinking behind design decisions, materials and resources used.
Projects Edition

WORTH Partnership Projects I

Project Call

3rd Call Projects

Project Sector

Furniture - Home Decoration

Project Challenge

Circular Economy

Digital manufacturing
Contact
Paolo de Jesus is a Berlin-based product/furniture designer.
He offers a bespoke design, product development and visualisation services for private clients, interior designers, design agencies, architects and start-ups.
Name

Postal address
XR.+ is a creative agency focused on augmented and virtual reality experiences for businesses, culture and brands
Name

Website

Postal address
Berlin based product and furniture designer. He offers bespoke design, product development and visualisation services for private clients, interior designers, design agencies, architects and start-ups. He has previously worked as the Head of Production at David Gill Gallery and was a founding director of design and manufacturing consultancy – 'We Make Extraordinary Objects'. He has now setup 'Process & Intent'. 
Name

Postal address