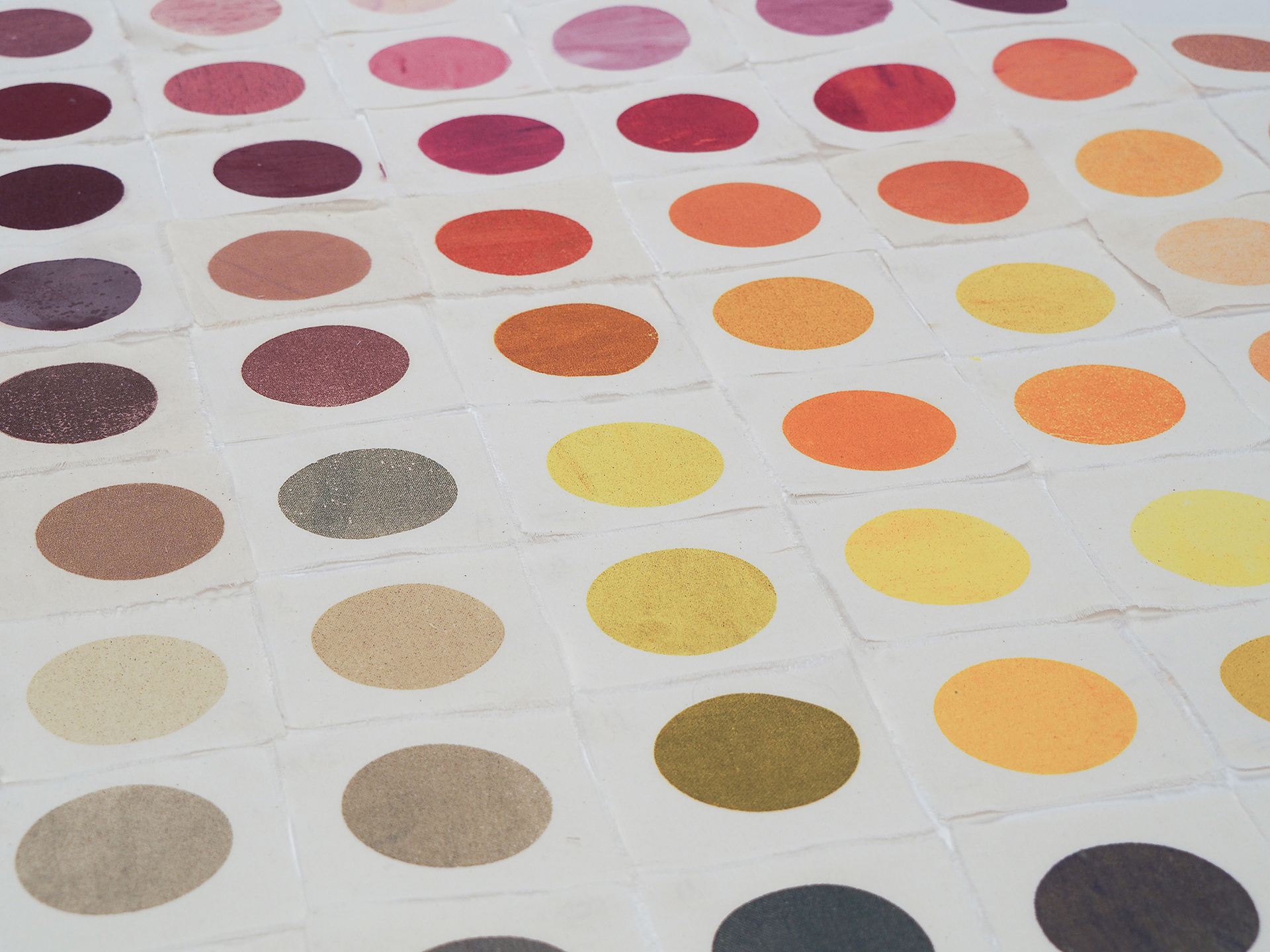 UNCOLOUR Studios was founded by two experimental textile designers based in Eindhoven, Netherlands: Anabel Poh and Sarah Roseman. Anabel Poh (1998) is a Singaporean independent textile designer and innovation consultant, and Sarah Roseman (1999) is a Canadian independent object, textile, and material designer. The pair met during their time at Design Academy Eindhoven, where they both developed a love and sensitivity for colour, pattern, textiles, and finishes. Since starting UNCOLOUR Studios, Anabel has taken on the role of expert in impact-driven systems design, and Sarah is the hands-on meticulous material researcher. This is in addition to their chemist, Srishti Gupta, who is the team's chemical expert. She conducts quantitative and qualitative analysis to optimise the effectiveness of the product.
UNCOLOUR is the first entirely biodegradable and bio-based screen printing ink derived from natural colours. This project intends to push the frontiers of industrial printing in textiles by precisely developing a one of its kind natural silkscreen binder. Hence, a viable commercially-scalable alternative within the textile industry to replace plastisol- or acrylic-based screen printing inks. Despite the rising use of natural dyes within the textile industry, natural printing has yet to be explored. UNCOLOUR's pigments are sourced from different industries, largely within the sector of food and agricultural waste. With an understanding of each pigment's colour fastness, we hope to utilise the natural colour-fading aspect as a tool to layer, build, and create dynamic colour palettes. As a result, this enables a shift in existing consumer mindsets towards a more realistic and sustainable attitude towards colours in the textile industry.
As the accumulation of textile waste becomes a pertinent issue globally, the use of synthetics within our garments and textiles prolongs the degradation. Printing and dyeing wastewater also accounts for about 10% of the total wastewater globally. Due to the biodegradable nature of our formula, we hope to ease these issues.
From a more personal standpoint, during our time at Design Academy Eindhoven, we had no other alternatives to plastisol- or acrylic-based inks. With UNCOLOUR, we hope to provide this alternative to the current and future generation of designers. Hence, the first step of our pilot program is to introduce our inks into design and art schools, as well as small design studios.
UNCOLOUR will hopefully bring a new norm to colours in the textile industry, because natural colours fade with use and time. We were always taught to design products that last. However, consumers no longer value materials like in the past. Despite a rise in awareness of the care of objects, there is still an urgency to deal with copious amounts of textile waste. If we do not change the materials we manufacture with, this accumulation will continue, and the land will drown in discarded polyester. It is a complicated matter to balance between designing to last or to biodegrade. This is something that UNCOLOUR is still trying to perfect. By creating a niche product within a sector of printing in the textile industry, this can be part of a growing ripple effect of sustainable products.
Projects Edition

WORTH Partnership Projects II

Project Call

1st Call Projects

Project Sector

Textile - Fashion

Project Challenge

New European Bauhaus
Stakeholders
Coordinators
Lottozero Textile Labs
Address